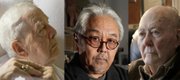 The Japanese attack on Pearl Harbor 70 years ago today changed the United States. It also changed the lives of three men. Vincent Muirhead, Lawrence, and Dorwin Lamkin, Mission, both served aboard ships at Pearl Harbor. Lawrence artist Roger Shimomura spent part of his youth in internment camps. Our special project includes their stories, archived newspaper and audio reports, and a photo gallery of the events of Dec. 7, 1941.
On the morning of Dec. 7, 1941, 22-year-old Vincent Muirhead had planned a leisurely day that included leaving his USS Maryland battleship to take pictures of a hula show later at the Royal Hawaiian Hotel.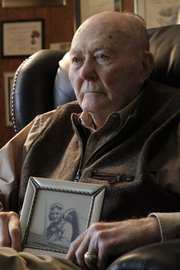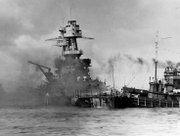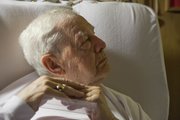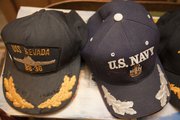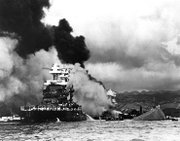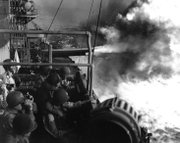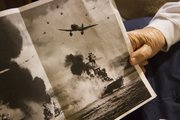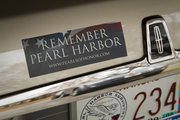 Muirhead had bought a new 8 mm Bell and Howell movie camera and wanted to try it out.
As he and roommates were getting ready for breakfast, they heard loud noises.
"We looked out the porthole and saw a Japanese plane going by 100 feet in the air," said Muirhead, now a 92-year-old Lawrence resident and retired Kansas University aerospace engineering professor.
Dorwin Lamkin, 89, of Mission, who was a 19-year-old hospital apprentice aboard the USS Nevada, has a similar memory of the start of the Japanese attack at Pearl Harbor. Lamkin had been up late the night before helping stitch up a sailor who got into a fight.
"I was in the sack, as they say," said Lamkin, now chairman of the Pearl Harbor Survivors Association. "I heard this 'rat-tat-tat-tat,' and I thought it was shipfitters. I thought it was people working on the hull."
Wednesday is the 70th anniversary of the Japanese attack on the U.S. Naval fleet in Hawaii.
Muirhead and Lamkin are among a handful of living Kansans who can give firsthand accounts what happened that day. They are part of a dying breed who lived through both the shock of the initial attack and the aftermath and horror of seeing fellow sailors who had died or were injured.
Both men talked about not believing the initial news that they were under attack.
Lamkin said a messenger stuck his head in briefly and excitedly yelled "the Japs are attacking" before someone threw a pillow at him in dismissal. But then, the ship's general alarm bell sounded loudly.
"It's like the voice of doom: bong, bong," Lamkin said. "Everybody goes 'bang.' Galvanized. So I picked up my shoes and ran to my battle station."
He was so excited that he hadn't taken time to put any pants on. A doctor had him search lockers nearby for gray pants and a shirt.
Before he made it to his battle station, Muirhead on the USS Maryland remembered thinking someone had a weird sense of humor once he heard the ship's alarm sound, but not after he saw the Japanese plane out the porthole.
"This is for real," he wrote in his memoirs about the war.
Aftermath
Historians have said American commanders didn't expect the Japanese to strike from the air.
In total, 2,390 Americans lost their lives that Sunday morning, and the Japanese attackers sank or breached 12 ships and damaged nine others. The U.S. lost 164 aircraft. On the Japanese side, 64 people died, and five ships sank while 29 planes were destroyed.
The attack is also credited with bringing the United States into World War II.
"It was a question in our minds when and where we would end up fighting the Japanese," Muirhead said of feelings before Pearl Harbor.
The USS Maryland was bombed. Four men died, although Muirhead was not hurt. The ship was eventually repaired and returned to action in the Japanese theater.
At Pearl Harbor, the Maryland was tied to the USS Oklahoma, which sustained much heavier damage and rolled completely over. That was the major focus of the rescue mission, but more than 400 sailors on the Oklahoma drowned.
Muirhead today calls Pearl Harbor one of the worst days of his life.
Lamkin also somberly talks about the tragedy. He remembers details very vividly, up to a point at least.
His USS Nevada wasn't tied to any other ship, and he was doing his best to help treat the injured. But the ship was hit by bombs and began taking on water.
"If we had sunk in the middle of the stream, we'd have bottled up the entire fleet," Lamkin said.
But a yard captain sent two tug boats that were able to push them out of the way. The ship sank controllably, and most of the crew was taken ashore where they spent days in tents. The Navy says 50 officers and men were killed on the Nevada.
Lamkin can recall helping move the wounded and trying to collect bodies. The 19-year-old young man from northern Wisconsin had never seen a dead person before that day.
"That's a hard way to break into the world," he said.
It's around that point that his memory switches from vivid details amid chaos to not being able to remember anything until two days later. He's heard other Pearl Harbor veterans mention the same thing.
"I think it was a protective device," Lamkin said. "It was nothing conscious on my part, and I've wondered about it from time to time."
He had a moment of fame days later as a photographer took Lamkin's picture while he was standing ashore talking to two medical officers. The Navy released the photo, and his aunt saw it in a Minneapolis paper.
"She called my mother and said, 'Dorwin's in the newspaper.' My mother said, 'He can't be. He's in Hawaii,'" he said.
The photo was the first notice his mother had that he was all right until receiving a short note two days later.
Lamkin survived and then spent time in the Pacific on a cruiser before the Navy allowed him to attend Kansas University. He lettered in football at KU in 1944 and eventually returned to Lawrence to graduate in 1946 after one more tour in the Pacific. He worked for a pharmaceutical company for years, later returning to the Kansas City area, where he's now retired.
Muirhead eventually became an aviator in the war along with Naval Academy classmate John "Buck" Newsom, of Lawrence. Newsom was aboard a ship that arrived at Pearl Harbor two days later, on Dec. 9, and has talked about seeing the destruction there.
Still, Lamkin and Muirhead believe the aftermath of Pearl Harbor could have been worse had the Japanese not committed tactical errors.
"There were a lot of rumors. One of them was that the Japanese would be landing soon," Muirhead said. "Fortunately, they didn't do that."
Lamkin said the Japanese flew several times over a major Navy oil supply.
"If they'd have bombed that oil supply," he said, "the battle front would have immediately moved back to California."
Survivor stories
-->
On the street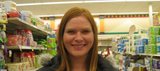 I don't remember much from school, but I learned about it from my grandfather, who was stationed there after it happened. He wanted us to see it and took about 30 in my family. It meant a lot to him.
Now 70 years later, Lamkin says as the number of Pearl Harbor survivors has diminished, the anniversary seems to get a less prominent spot as a history lesson.
But he and other survivors in the Kansas City area still speak at schools and other events.
"We take advantage of this opportunity to tell the kids about what constitutes their freedoms and what went into it, the elements of it," Lamkin said. "That's worked out pretty well.
The kids still listen intently when he's in the classroom.
He has created a memorial at a park near his home, and he returned to Pearl Harbor for the first time a year ago, on the 69th anniversary.
Muirhead worries that younger generations spend less time studying history than they used to.
"I would hope that we're better prepared for whatever occurs in the future," said Muirhead, who retired from the Navy in 1961 as a commander.
Both men see parallels and major differences between Pearl Harbor and the 9/11 terrorists attacks.
The retired KU professor has no major plans for the 70th anniversary. His wife, Bobby Muirhead, has a doctor's appointment, he says, and he's never really made a big deal out of the anniversary.
"You either survive or you don't," Muirhead said. "If you survive, you're OK, and if you don't, I guess it's OK, too."
Lamkin, on the other hand, jokes that he's become a "professional survivor" in recent years and plans to attend an event in Mission.
"I don't regard myself as a hero, and I'm doubly cautious about representing myself as anything other than a survivor," Lamkin said. "I was where I was because of factors I had no control over, and I did what I was supposed to do."
Copyright 2018 The Lawrence Journal-World. All rights reserved. This material may not be published, broadcast, rewritten or redistributed. We strive to uphold our values for every story published.