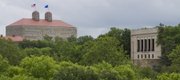 Subscribe to the email edition of Heard on the Hill and we'll deliver you the latest KU news and notes every weekday at noon.
Your daily dose of news, notes and links from around Kansas University.
• Thanks to a great tipster who pointed out that two folks with KU ties have been nominated for Pushcart Prizes.
Here's a bit about the literary prizes from Wikipedia, the great knower of all things.
One of them is Megan Kaminski, a senior lecturer in English, whose essay, "The Politics of Play," (published in Post Road magazine) was nominated for the 2012 award.
The other is Kate Lorenz, a former university scholar and founding editor of Parcel, a literary magazine co-published with The Raven Bookstore in Lawrence.
She was nominated for her short story, "Weimaraner."
• Three KU professors have published a study that shows university faculty members who are born and educated outside the United States are more productive than their peers but are also often less satisfied, according to a KU statement.
Dongbin Kim, associate professor; Lisa Wolf-Wendel, professor; and Susan Twombly, professor and chairwoman of educational leadership and policy studies, published the study in the November issue of the Journal of Higher Education.
Why might this be?
"Foreign-educated faculty work harder than their U.S.-educated faculty counterparts and are less concerned about being satisfied than U.S. faculty or foreign-born, U.S.-educated faculty," the authors wrote.
And they stumbled upon one other interesting thing, too.
"This notion that you need to be happy in your job might be a distinctly American philosophy," Twombly said in the statement.
• I've mentioned the impending firing of former KU Provost Richard Larviere a few times in this space over the past couple weeks.
But now that the deed is officially done, the (Portland) Oregonian, which has been all over this story from the beginning, has a pretty good wrapup of the whole situation.
This story should serve as a primer on the whole deal if someone hasn't been keeping up.
• Like most good Americans, I'm pretty happy with this job. But I get even happier when you send me tips for Heard on the Hill to ahyland@ljworld.com.
Copyright 2017 The Lawrence Journal-World. All rights reserved. This material may not be published, broadcast, rewritten or redistributed. We strive to uphold our values for every story published.