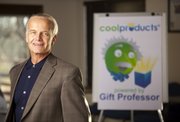 A bit stumped when it came to gift buying, Lawrence resident Tony Schmidt didn't just go to the mall and settle on blasé run-of-the-mill presents for his loved ones. Instead, the now-president of CoolProducts.com came up with an idea to both simplify and personalize the gift-giving process: Gift Professor.
The online, free-of-charge service pairs buyers with gifts for their loved ones based on principles similar to sites such as eHarmony and Pandora. The Gift Professor program asks users questions about the type of relationship the two people are in, personal style and occupation, among others. Schmidt says the goal is to provide something special: a gift your loved one will cherish.
"I was thinking why couldn't you do a survey for the people you're shopping for and be presented with products that fit that person to a tee? It just seemed to me that there ought to be an online-condensation element to the Web instead of just a library element, where you were looking at product presentation, page after page. The same old browsing function we'd been using for a hundred years in stores and in catalogs which had been translated to the Web. Why couldn't we get beyond that?"
Schmidt says it is the wide variety of products Gift Professor includes in its surveys that makes the difference in the shopping process, as well as the heavily condensed nature of shopping on the Internet. Schmidt says the entire site has been built from the ground up, with members of the company designing nearly every aspect of the site.
"We've been working on it for four years," he says. "This is kind of a big deal that we've been able to aggregate 2,000 merchants into one catalog and create the software that allows that catalog to automatically update itself from product feeds from each of those 2,000 merchants. Building all of this was a giant undertaking, and that was just the first step. We've essentially cut out 90 percent of the time it takes to find an amazing gift, and that's our ultimate purpose. That's our value proposition right there."
Schmidt says he's sure if people try out the tool they will be impressed with the results. He's confident he and his researchers, a staff of Kansas University social psychology doctoral students, have come up with a category for any potential gift recipient.
"There's a lot to it," he says. "It's a huge, working mechanism that does a lot of things. We have close to 700 categories of products on the site. That's how we do the service. That's how we allow you to describe your loved one. We don't have to have 700 categories if we weren't doing the survey. But to do a survey, there needs to be a category for every type of person you can imagine, whether they're an architect or a veterinarian or an ophthalmologist."
Schmidt says although the company has a goal to reach customers across the entire nation, he's been impressed with technology business growth regionally. This made it easy for him to base his company of 15 employees out of Lawrence.
"There's quite a technology hub over in Kansas City, and they're becoming sort of a mecca for mobile apps over there. They even call it the Silicone Prairie, this neck of the woods. We're involved in a lot of the regional organizations that are trying to promote technology and trying to lobby for technology support. The goal is to produce information society jobs here in the Lawrence area."
For people willing to try the service, Schmidt says there's a lot to enjoy. He says he thinks people will be surprised at how easy and intuitive the Gift Professor process can be.
"It's pretty hard to convey what it exactly is," he says, "but we're almost like a little Amazon. We parse the answers you give to the survey against products, and not from what stores, but from 2,000 of your favorite mail-order catalogs and merchants. The client actually clicks through to the merchant at their best price, and we get a small commission. It's called an affiliate network. We're affiliated with about seven (networks) like that, which allows us to have a very wide breadth of merchants."
In the end, Schmidt says Gift Professor is all about helping to craft lasting memories for loved ones at holidays.
"How many of us give a gift card or money, or we ask the person what they want for Christmas? The purpose of gift giving is to reinforce your relationship with people," Schmidt says. "It's an important part of the social fabric. We're just trying to make someone into a gift-giving hero."
Copyright 2018 The Lawrence Journal-World. All rights reserved. This material may not be published, broadcast, rewritten or redistributed. We strive to uphold our values for every story published.