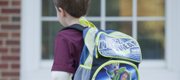 Subscribe to the email edition of First Bell and we'll deliver you the latest local education news and notes every weekday at noon.
The folks at Veritas Christian School — and one student's family in particular — received some good news recently from the nation's capital.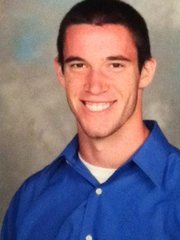 Preston Randall, a senior at Veritas Christian, received an nomination to the U.S. Naval Academy from U.S. Rep. Kevin Yoder, R-Kan.
The nomination sends Randall's name to the academy, which now must determine whether Randall meets requirements for admission. The academy makes the final decision about appointments for admission.
Randall is seeking to become a member of the academy class that enters in the summer.
"He wants to serve," said Carol Rau, development director for the school, 256 N. Mich. "He exemplifies what we are seeking to promote in our students, in kindergarten through their senior year — just to strive for excellence in academics, extracurricular activities and service to the community as a whole."
Randall, one of 11 seniors at Veritas, is the son of Kelly and Jeff Randall.
Yoder has nominated 10 students from his 3rd District for appointment to the academy. They joined eight others seeking admission to the U.S. Air Force Academy and another eight looking to attend the U.S. Military Academy.
"The caliber of these nominees is very impressive; our district will be very well represented," Yoder said, in a statement. "These young men and women are our future, and I wish them well as they seek an appointment to an academy."
•••
The Central and East Lawrence Elementary School Consolidation Working Group will have four specific scenarios to review during tonight's meeting, the first of five sessions remaining before the group's overall recommendations are due to the Lawrence school board.
Each of the proposals is scheduled for a 20-minute presentation from its creators. The presentation also would include time for questions and answers.
Here's a basic look at each of the proposals, listed in order that they will be presented once the meeting begins at 7 p.m. at district headquarters, 110 McDonald Drive:
• From representatives of Hillcrest School: Expand Hillcrest so that it could accommodate students coming over from Sunset Hill School. Some students from Sunset Hill could be sent to Quail Run School.
• From representatives of Kennedy School: Close both Kennedy and New York School and consolidate the bulk of those students — all of Kennedy's and most of New York's — at a new school, which would be built on a site at or near the former East Heights School, 1430 Haskell Ave. Hillcrest and Sunset Hill would combine at an expanded or new school at the Sunset Hill site, with some of Hillcrest's English as a Second Language students being sent to an expanded Cordley School.
• From representatives of Sunset Hill: Expand Sunset Hill and close Pinckney School, whose students would move to Hillcrest. The expanded Sunset Hill would handle students from Hillcrest and potentially welcome some students from Sunflower School. Broken Arrow could become a site for English as a Second Language students.
• From representatives of Pinckney: Close Hillcrest, and send the Hillcrest's English as a Second Language students to Schwegler, Cordley and Prairie Park schools; Hillcrest's other students would go to Sunset Hill, although some could be directed to Pinckney. Also: Kennedy and New York would close, with the bulk of those students going to a new school built at an expanded East Heights site.
To see the actual documents, the first three are available at this link (scroll past the "proposed criteria."), and Pinckney's revised version is available here.
The working group has representatives from six schools identified by the Lawrence school board for potential consolidation: Cordley, Hillcrest, Kennedy, New York, Pinckney and Sunset Hill. Representatives from Woodlawn School also serve, although the school is not being considered for consolidation.
The school board has charged the group with recommending a plan that would consolidate the list of six schools to down to either three or four within two years.
Recommendations are due by the end of January.
Copyright 2018 The Lawrence Journal-World. All rights reserved. This material may not be published, broadcast, rewritten or redistributed. We strive to uphold our values for every story published.