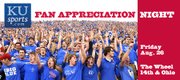 You are invited to our KUSports.com fan appreciation BBQ!
Former Kansas University basketball forward Darnell Jackson was featured on the reality TV show "L.A. Ink" Thursday on cable network TLC.
In an emotional episode, which at one point brought Jackson to tears, the 6-foot-9, 255-pound Sacramento Kings big man had a tattoo of his 16-month-old daughter, Evonna Joie, emblazoned on his upper left chest.
Above the sketch of his baby daughter were the names of Darnell's late mother, Shawn, and grandmother, Evon.
"Every time I look at my tattoo, I will think of my daughter, my mother and grandmother. My tattoo lets my daughter know I'm not going anywhere. I'm always going to be here ... 'til the end," Jackson said to conclude the segment.
Jackson's mom took her own life on March 25, 2010, after enduring more than a dozen surgeries following a car crash caused by a drunken driver on May 25, 2005, in Las Vegas. That crash claimed the life of Evon, who was a front-seat passenger in the car.
"My grandmother died (following crash), and my mom broke both her arms and legs. Ever since then, she was on medication and pills for pain, and it was changing her. She was always telling me, 'I feel like I killed my own mother.' It was hard for me because I couldn't tell her, 'It wasn't your fault.' She already made up her mind it was her fault," Jackson said of Shawn.
"It was an accident. You can't control that. My mom called me before my daughter was born. She asked me, 'Are you ready to be a father?' I was like, 'Yeah,''' Jackson added. "The next morning she overdosed on the pills."
Darnell said, for a time, he considered suicide in response to his mom's passing.
"I have moments where I break down every now and then. I can't leave my daughter like that," Darnell said. "I have to keep going, keep fighting.
"Whenever I'm with my daughter, I always ask her, 'Where's my mother?' She will look over my left shoulder and point to the sky."
Now the 25-year-old Jackson has all three right under his left shoulder.
"My mom and grandmother used to always tell me, 'Good things are going to happen to you if you stay positive,''' Jackson said. "I can still hear them to this day. I need to make sure every day I wake up that they know I still love them. I've finally got my daughter on my chest. It's going to be there a long time."
Jackson said on Twitter on Thursday that he plans on "bringing more attention to suicide awareness and prevention."
Rankings
KU's top recruiting prospects in the high school Class of 2012 dropped a few slots in Rivals.com's national rankings, released Thursday.
Perry Ellis, a 6-foot-8 senior forward out of Wichita Heights, moved from No. 19 to No. 25. Kaleb Tarczewski, 7-foot senior from St. Mark's High in Southborough, Mass., dipped from No. 12 to No. 21.
KU already has received a commitment from Zach Peters, a 6-9 senior forward from Prestonwood Christian Academy in Plano, Texas, who fell from No. 135 to No. 145.
Some other players who are considering KU and their national rankings: No. 1 Shabazz Muhammad, 6-6, Bishop Gorman High, Las Vegas; No. 13 Archie Goodwin, 6-4, Sylvan Hills High, Little Rock, Ark.; No. 15 Marcus Smart, 6-4, Marcus High, Flower Mound, Texas; No. 16 Danuel House, 6-7, Hightower High, Missouri City, Texas; No. 24 T.J. Warren, 6-7, Brewster Academy, Wolfeboro, N.H.; No. 47 Nino Jackson, 6-2, Ardmore (Okla.) High. KU is looking at some unranked players including Phil Forte, 5-11, Marcus High, Flower Mound, Texas; Dillon Graham, 6-4, First Academy, Orlando, Fla.; and Christian Sanders, 6-3, St. Thomas High, Houston.
Tip-Off talk
ESPN's Andy Katz gave his take on all the ESPN Tip-Off Marathon Games in his Thursday blog at ESPN.com. KU will meet Kentucky as part of the day's proceedings at 8 p.m., Nov. 15, in New York's Madison Square Garden:
"Why watch?" Katz wrote. "Just the sound of Kentucky-Kansas gives college basketball fans chills. The Wildcats have the top newcomers in the country, led by Anthony Davis. But coach John Calipari is confident that Doron Lamb will be the best player on the team. Meanwhile, Kansas isn't being picked to win a wide-open Big 12, but the Jayhawks still have an immense talent in Thomas Robinson and are not about to fade away anytime soon."
Legends are …
Kansas University Legends of the Phog game organizers have confirmed the first batch of attendees for the Sept. 24 game in Allen Fieldhouse.
Those indicating they'll be back are: current NBA players Cole Aldrich (Oklahoma City), Mario Chalmers (Miami), Nick Collison (OKC), Xavier Henry (Memphis ), Darnell Jackson (Sacramento), Marcus Morris (Houston), Markieff Morris (Phoenix), Paul Pierce (Boston). Former NBA players to attend: Greg Ostertag, Scot Pollard, Darnell Valentine.
"Many others will be participating and attending the Legends of the Phog," said Greg Gurley, director of development of the Williams Fund.
Ticket sales continue today for KU students and the Hall of Fame, Champion and All-American membership levels of the Williams Fund. All remaining Williams Fund membership levels may order tickets starting Monday.
Copyright 2018 The Lawrence Journal-World. All rights reserved. This material may not be published, broadcast, rewritten or redistributed. We strive to uphold our values for every story published.