Photo Gallery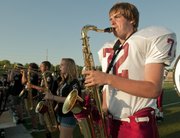 LHS fall sports jamboree
Lawrence High junior quarterback Brad Strauss contributed to every scoring play for the Lions' varsity football team in Wednesday's annual LHS Fall Sports Jamboree scrimmage, both through the air and on the ground.
After Wednesday's scrimmage, LHS head coach Dirk Wedd was most focused on Strauss' uncharacteristic fumble on the second possession of the game, but still liked what he saw of his team.
"He didn't play at the level that he is capable of playing, but you know what, our kids will rally around him and he's not going to be perfect every snap," Wedd said. "So we're excited about the level that we're at right now ... and we've got a chance to be a pretty good football team."
Strauss opened the game hooking up with junior Erick Mayo on a 59-yard touchdown pass before turning the ball over on the next possession. Strauss recorded two more touchdowns, rushing for one and connecting with Drake Hofer in the back of the endzone for the other, and even got his hands on an interception in the 21-0 victory for the varsity team over the junior varsity.
Wedd said his players would learn from the scrimmage.
"We're at a point where our goal is to get better every day and I think we got better tonight," Wedd said. "And if we keep getting better, then nine days from now, we've got a shot. The wins and losses will take care of themselves if we work hard and get better every practice."
The LHS volleyball team kicked off the jamboree festivities with a scrimmage of its own, and after the Lions were one game away from the state tournament last season, Wednesday could not have come soon enough for senior captain Kelsey Kilburn.
"I was ready for the year to start like in December when I was playing club volleyball," Kilburn said. "I was just excited and my whole goal over the winter was to get better so we can make it to state this year."
Head coach Stephanie Magnuson liked the communication, hustle and potential she saw in her team when the Lions put on their uniforms for the first time. The first thing Magnuson said to the team before the scrimmage was a reminder of last year and what needs to be different this year.
"Last year we were so close to state and it still hurts to this day and we're not going to feel that way," Magnuson said. "So starting today, every time we put on that uniform, it's 100 percent every time they step on the court and play with a lot of pride and practice with a lot of pride."
All LHS fall sports teams had a chance to be in the spotlight at Wednesday's jamboree, being recognized for the first time in the new school year. Along with volleyball and football scrimmages, the boys soccer team and freshman and sophomore football players had their chance to scrimmage on the field. The evening also included a performance from the marching band, introductions for the cheer and pom squad and girls golf and tennis teams and a one-mile run by the cross country teams during halftime of the football scrimmage.
"We've got the fans coming out to watch all of the sports," Magnuson said. "It's not just us, it's not just football, there's cross country and soccer and cheerleading and everybody gets to participate so, you really get that feel of the Lion pride. It's my favorite day of the year."
Copyright 2018 The Lawrence Journal-World. All rights reserved. This material may not be published, broadcast, rewritten or redistributed. We strive to uphold our values for every story published.