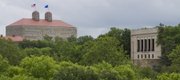 Subscribe to the email edition of Heard on the Hill and we'll deliver you the latest KU news and notes every weekday at noon.
Your daily dose of news, notes and links from around Kansas University.
• I sat in to watch the Huron Consulting folks and KU administrators host a town hall meeting on the Changing for Excellence initiative to increase efficiencies across the board.
It was well-attended, with many KU staff members asking questions about the ongoing process.
KU has already identified a list of 12 potential areas that could generate more money through savings or new revenue.
One interesting statistic I heard from a Huron representative at the meeting was that he thought KU's vacancy rate "in the dorms" was at 10 percent.
Jill Jess, a KU spokeswoman, said he was talking about last year's numbers, and only for residence halls, not scholarship halls or Jayhawker Towers apartments. Last year, she said, the residence halls were 91.9 percent occupied.
That presented an opportunity for growth. KU's provost has said that freshman enrollment is up this year, so this year's number should be a bit higher. Jess said this year's occupancy rate wouldn't be available until KU releases its overall fall enrollment numbers.
Another observation from the Huron folks that I thought was interesting was that KU's facilities operations folks cover fewer square feet, per custodian, than those at KU peer universities do, so they may be looking at that area for some changes.
KU's still in the middle of the process here, as university officials are now weighing which of the 12 cases they'd like to pursue. I'll be watching throughout.
• I'll share a few KU-based observations from reading my yearly Almanac issue of the Chronicle of Higher Education, which has all kinds of data inside.
KU is tied for eighth in the country with six art history doctorates awarded in the year 2008-09. Who's tops in that category? New York University, which awarded 15. The university also was tied for 13th in the nation in number of English doctorates awarded with 17. In second place in that category, with 28 doctorates awarded, was the bizarrely named Indiana University of Pennsylvania. (Found, of course, in Indiana, Pa.).
My colleague and Pennsylvania native Christine Metz gave me an impassioned history lesson, though, and told me in no uncertain terms that the recorded history of Indiana County goes back more than 100 years before Indiana became a state. Therefore, she said, the city has every right to an "Indiana University," even if there's a bigger and more well-known one in Bloomington, Ind.
• KU's federal research dollars in science and engineering on all campuses (adjusted for inflation) went from $73.8 million in 1999 to $127.4 million in 2009. The 72.5 percent increase was good for 63rd in the country.
In that same period of time, 28 schools doubled their research output.
Kansas State University's research funds increased over that time period by 59.3 percent, to $57.7 million.
KU's total dollar figure for research funds was good for 81st place, one below Princeton University, and one above the Woods Hole Oceanographic Institute.
• KU's $1.05 billion endowment was good for 57th in the country. It increased 10.4 percent over the previous year.
It was one of 62 schools that reported endowments larger than $1 billion in the 2010 fiscal year.
Colleges across the country reported that the market value of their endowments had increased during the fiscal year, as opposed to some downturns experienced during the Great Recession.
• I didn't award any art history doctorates last year, but I write a mean Heard on the Hill. I need your help, though. Keep sending those tips to ahyland@ljworld.com.
Copyright 2018 The Lawrence Journal-World. All rights reserved. This material may not be published, broadcast, rewritten or redistributed. We strive to uphold our values for every story published.