Photo Gallery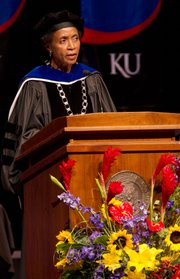 146th KU Convocation
On Sunday night, Kansas University leaders and dignitaries encouraged a new crop of Jayhawks to be ready —not just for today's official start of classes — but for the entire climb ahead of them.
"The greatest expectation, one you set for yourself just by enrolling, is that you'll earn your degree. You're making this climb for a reason," Chancellor Bernadette Gray-Little said during KU's 146th opening convocation on Sunday. "But beyond the expectation that you'll graduate, I encourage you to think bigger. Set lofty aspirations for yourself. Do something you thought was impossible."
Several of the messages were aimed at students, who made up much of the audience at the Lied Center on Sunday evening. Many of them echoed throughout the several speeches from student and university leaders.
Visit your professors. Translate facts into new discoveries and innovations. Take advantage of all the opportunities KU offers, from study abroad programs to clubs and organizations.
Rodolfo Torres, KU's faculty senate president, said that faculty and staff would be there along the way to help, even for the 7:30 a.m. calculus class he's teaching today.
Gray-Little also mentioned the university's upcoming application for National Cancer Institute designation, and spoke at times to the university's faculty and staff, thanking them for their participation in KU's strategic planning process and its recent Changing for Excellence initiative, which is designed to find efficiencies throughout the university.
"We will not be successful as a national research university if we do not make these changes and resume our climb," she said. "To stand still is to not only give up on our goal of achieving excellence, it is also to be left behind."
Blake Silvernail, a freshman from Olathe, was wearing a new T-shirt encouraging him to graduate in four years, a prize of sorts for attending a few lectures to get ready for the new school year, he said.
He came to convocation because he'd heard that students should do it at least once and said he was encouraged by what his new university's leaders had to say.
"Everybody has a chance to succeed at KU, regardless of what path you're on," he said.
Copyright 2018 The Lawrence Journal-World. All rights reserved. This material may not be published, broadcast, rewritten or redistributed. We strive to uphold our values for every story published.