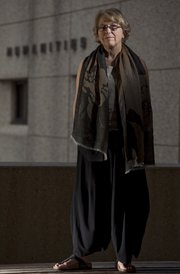 For my third installment in this ongoing series, I stopped by the office of Mary Klayder, a University Honors Lecturer and associate director of undergraduate studies in English and adviser to many, many students.
Here are 16 things she's done:
• Worked as a clown for years while living in Denver and in Kansas City. She was "Pockets," appearing at country clubs, parties and even on television commercials for Shakey's Pizza.
"I think it's a lot like what I do now," she said. "I just talked to people."
She could draw, so she never did balloon animals. She'd just ask people about their favorite animal, and she'd draw it for them.
• Served as an adviser to many, many students. She's well-known for her mantra, "It'll be fine," which she uses to calm extremely stressed students. A Facebook group devoted to her once carried that name.
• Ordered a bunch of fortune cookies made that she could give to students. Each cookie had the same fortune — "It'll be fine."
• Dealt with the death of five people close to her because of brain disorders — her father, her husband, her boss in the KU Honors Program, a friend in the department and a childhood friend.
That wasn't easy, she said, but it lends some credibility when she tells people it'll be fine.
"You can go through these things and come out on the other side," she said.
• Spent the night with Muhammad Ali once in Kansas City — "Well, not in that way," she added quickly.
A guy she was with at the time practiced magic, and Ali loved magic. It was all sleight of hand stuff, and a bunch of people were all crowded around a table watching several performers at once, Klayder remembered.
But what really struck her was a big hand on her shoulder, and her reaction when she turned around and saw Ali, still in his prime. She found him to be funny and appreciative of the talents of the people all around him.
"I'll never forget just turning around and just gasping," she said.
• Led 27 different study abroad trips to both the United Kingdom and Costa Rica.
"I go to England because I could be from there, and I go to Costa Rica because I feel like I'm not from there," she said.
She enjoys taking students on trips and watching them grow.
"They come back, and they've changed," she said. "Many of them don't even know it."
• Sneaked into tourist photos on many occasions at the British Museum after noticing how many people chose the building's steps as the backdrop for a photo.
"I like being dispersed all over the globe through photographs," she said.
• Cultivated a very active Facebook page, with more than 1,500 friends, which helps her stay connected to a wide variety of people.
• Used those people to build connections with current students. One "hub," as she calls it, is Betsy Rate, an award-winning broadcast journalist who has worked for Bill Moyers. People interested in that field get sent to talk with her. She has many, many more people, not just in specific careers, but in specific cities, too, who help her students in a whole variety of ways.
"Mary Klayder sent me," becomes an easy way in the door, she said.
• Learned to read from her brother at the age of 4 after he broke his arm and took time to teach her. She particularly enjoyed L. Frank Baum's books on the Wizard of Oz.
"My mother's name was Dorothy and she had an Auntie Em, so I kind of thought it was like family history," she said.
• Left her hometown of Bartlesville, Okla., to go to Kansas University, where she majored in art history and English. She didn't go to the University of Oklahoma, she said, because she found the campus too ugly.
• Arrived on campus in 1968 and witnessed the Vietnam War-era turmoil at the university. She remembered dining with Chancellor Laurence Chalmers and witnessing all the events around her and paid a lot of attention, but didn't participate in many protests because her education was so important to her mother, she didn't want to put that at risk.
"That spring of 1970, it changed who I am," she said.
• Wrote many, many letters of recommendation. Sometimes 20 per week, she guessed, during the school year.
• Made "really great" fudge for a number of different people, including plain chocolate ("Toto's fudge"), peanut butter ("Scarecrow's fudge") and plain chocolate and pecans ("Dorothy fudge," after her mother). Many students seem to have a knack for knowing when she's just made some, she said.
• Taught high school English and still enjoys teaching English courses at KU. It can be a way to get people to talk about controversial issues or stuff they normally keep hidden.
"It's in the book, so we can talk about it," she said. "You're not disagreeing with me, you're disagreeing with the book."
• Took 15 years to finish her doctoral dissertation, finally finishing in 2008.
"You don't want to take so long," she tells students.
Copyright 2018 The Lawrence Journal-World. All rights reserved. This material may not be published, broadcast, rewritten or redistributed. We strive to uphold our values for every story published.