Photo Gallery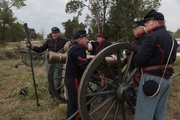 Lawrence, residents, Kansans join in Civil War re-enactment
A group of Civil War re-enactors with the 3rd Kansas, Battery B, light artillery unit, including some from Lawrence, participated in the Wilson's Creek 150th Anniversary Re-enactment. The event was held August 12-14, near Springfield, Mo.
Local events for Civil War on the Western Frontier
Activities surrounding the annual Civil War on the Western Frontier continue through Sunday, the 148th anniversary of Quantrill's raid on Lawrence. Here are some highlights. For more information, visit visitlawrence.com/events.
Saturday
• Quantrill's Raid Walking Tour, 8:30 a.m.-10 a.m. and 11 a.m.-12:30 p.m. Pre-registration required and admission charged. Register at Watkins Museum, 1047 Mass., 841-4109.
• Shared Stories of the Civil War, a Reader's Theater presentation, 10 a.m.-11 a.m., Watkins Museum, 1047 Mass. No admission charge.
• Lecture/booksigning of "Thomas Ewing Jr." by Ronald Smith, 1 p.m.-2 p.m., Lawrence Public Library, 707 Vt. No admission charge.
Sunday
• Rev. Cordley's recollections, by re-enactor Harold Riehm. Cordley, a survivor of Quantrill's Raid, officiated at funerals for many raid victims., 7 p.m.-8 p.m., Watkins Museum, 1047 Mass. No admission charge.
• Roll call of names of nearly 200 victims of Quantrill's Raid, 8:15 p.m.-8:45 p.m., Watkins Museum, 1047 Mass. No admission charge.
Wilson's Creek National Battlefield, Republic, Mo. — Civil war re-enactor Alan Van Loenen, Lawrence, and his artillery crew were preparing to fire a final cannon blast toward Confederate infantry, when several soldiers, formerly (playing) dead, rose from the Missouri cornfield in front of the cannon line.
"Get back down," yelled the crew, waving their arms and warning the nearby soldiers to remain dead, safe from the cannon's blast. The men dropped, and members of the 3rd Kansas Battery B light artillery unit discharged their 6-pound, smoothbore cannon one last time. Through the clearing smoke the dead rose once again, brushed off the dust and marched off the battlefield to the sound of spectators' applause.
The action was part of the 150th Battle of Wilson's Creek Civil War reenactment last weekend on a national battlefield 12 miles southwest of Springfield, Mo. The Aug. 10, 1861, battle is considered the second major land battle of the Civil War. The Confederates won, giving them control of southwestern Missouri.
Last weekend's Wilson's Creek re-enactment drew about 25,000 spectators and is one of dozens of national Civil War re-enactments scheduled during the next four years to celebrate the war's sesquicentennial.
A fighting group
According to the Wilson's Creek National Battlefield website, it was an interesting group that fought there. Jesse James' brother, Frank James, William Clarke Quantrill and Cole Younger participated in the battle as members of the Missouri State Guard. Two years later — on Aug. 21, 1863 — Quantrill attacked Lawrence.
And 148 years later, Van Loenen was one of 3,000 re-enactors who took part in the three-day engagement.
"I had 24 years in the regular military, and when I retired from that in 1995, I found out I kind of missed the military association."
He joined the 3rd Kansas light artillery re-enactors after seeing them at a Civil War on the Western Frontier event in Lawrence.
He had one stipulation.
"I wanted to be an enlisted guy again," said Van Loenen. "Don't ask me to hold any rank."
There are an estimated 30,000 Civil War re-enactors in the United States, but the numbers have been declining from a peak in 2000 of 50,000. Van Loenen hopes the 150th anniversary sparks an increase in membership.
"To be quite honest, the average age is older, retired. What we'd like to do is get the younger generation interested," says Loenen. "If you like comradeship around a campfire at night, you like history and primitive camping, Civil War re-enacting is for you."
If you catch the re-enactment bug, you'll definitely need the re-enactment look.
It takes a little gear, and authenticity is important. Period clothes and gear can include a jacket and vest, hat, shirt, pants, boots, canteen, a tent and possibly a horse, cannon or a reproduction musket.
Out among them
In the Union camp at Wilson's Creek, hundreds of white canvas A-frame tents cover a large clearing on a dusty hillside. Spectators wander through the campsites and catch the soldiers between battles, where they eat over a fire pit, nap under a shade tree, tend horses or play cards.
Vietnam veteran Howard Rose, Kingwood, Texas, with Company A, 13th U.S. infantry, cleans his rifle before an evening meal. Rose enjoys the battles for the feeling of excitement and the adrenaline rush.
"It's a lot better than what happened in Vietnam," said Rose. "At least here, at the end of the battles, they blow a bugle and we all rise up and shake hands."
One of those buglers, musician R.J. Samp, Wheaton, Ill., is practicing nearby with a fellow bugler. For this weekend engagement, Samp is the bugler for Union Gen. Terry Crowder and responsible for sending bugle signals out to artillery, cavalry and infantry units.
"I re-enact about once a month as a bugler, usually mounted on a horse," said Samp. "And I still have my teeth."
That's no easy feat. Horses often cause the majority of re-enactment casualties. By weekend's end, three soldiers were recovering from horse-related injuries — after they either fell off or their horses fell on them.
While the camaraderie and fraternity of re-enactors between the Blue and the Gray is evident, there's still some competitive spirit. On a night raid of a Union campsite, a Rebel cavalry soldier was dismounted by guards and staff. As punishment, the young trooper's horse was painted with large U.S. letters in toothpaste.
On a hill above
The acted battles can be impressive for both spectators and re-enactors alike. Chuck Nimmo, Buffalo., Mo., had a front-row seat for Saturday afternoon's battle. It was his first time witnessing a re-enactment.
"I wanted to see more hand-to-hand combat," he said with a slight chuckle. "I've always been a big fan of the history of the Civil War. It stands out in most people's minds because it was brother against brother and family against family. A war among ourselves."
Bob Wandel, Lawrence, with the 3rd Kansas, who will participate in Lawrence's Civil War on the Western Frontier, enjoys the views and vantage point of the artillery units, usually on a hill overlooking the battlefield. "If you see a whole line of men coming at you with loaded guns, even though you know you're not going to get shot, it's very impressive," says Wandel.
But working on an artillery crew has its costs too. The noise of the blasts are loud, and while not period authentic, the members of the 3rd Kansas protect their hearing with earplugs. Still they feel the reverberations.
And for each cannon blast that shakes his body and pounds his ears, Van Loenen, also a retired budget director for the KU Medical Center, considers another cost incurred by his artillery unit.
"I often think about how each time we fire — there goes another $10."
Copyright 2018 The Lawrence Journal-World. All rights reserved. This material may not be published, broadcast, rewritten or redistributed. We strive to uphold our values for every story published.