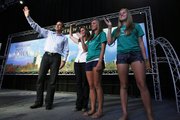 After stepping out of the race for the Republican presidential nomination, ex-Minnesota Gov. Tim Pawlenty did what many other parents are doing this week.
He dropped his daughter off in Lawrence to begin classes at Kansas University.
His daughter, Anna, will be attending school at KU as a freshman in the fall, and plans to major in American studies.
The congressional newspaper The Hill reported that Pawlenty sent an email to his supporters on Monday that shared the news.
"Today, Mary and I are driving Anna to start her freshman year at college," Pawlenty wrote, according to the paper. "As we reflect on this family milestone, we're reminded of what matters most."
The former Minnesota governor was spotted Monday night at the Mad Greek restaurant with his daughter by Twitter users.
Several other children of political and famous figures have attended KU through the years.
Alex McCarthy attends KU. She is the daughter of Mike McCarthy, the head coach of the Super Bowl champion Green Bay Packers.
Aja James, the daughter of Sly James, the mayor of Kansas City, Mo., also attends the university.
Todd Cohen, a university spokesman, said Susan Ford, the daughter of former President Gerald R. Ford, attended KU briefly in the spring of 1977 to study photojournalism. The son of Frank W. Abagnale, the famous con artist portrayed in the movie "Catch Me If You Can," also attended the university, Cohen said.
Copyright 2018 The Lawrence Journal-World. All rights reserved. This material may not be published, broadcast, rewritten or redistributed. We strive to uphold our values for every story published.