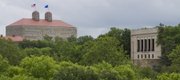 Subscribe to the email edition of Heard on the Hill and we'll deliver you the latest KU news and notes every weekday at noon.
Your daily dose of news, notes and links from around Kansas University.
• I saw a few other reports on Wednesday that KU had been named as the top "Best University to Work For" by Glassdoor.com, an online business community.
I thought that was interesting, but was curious to know how they determined that.
After all, the Chronicle of Higher Education puts out a similar list every year, and measures colleges using several metrics. They include diversity, tenure clarity and process, teaching environment, compensation and benefits and job satisfaction, to name a few.
The fine folks at Glassdoor.com, however, use a different method. They invite users to submit anonymous reviews of the companies for which they work. KU had received 31 such reviews as of Wednesday afternoon. To compile their rankings, they took the universities that had more than 20 Glassdoor.com reviews in the last year and averaged the overall rankings the users gave on a five-point scale, with a ranking of five being the best, and then used that to sort the schools.
KU's overall ranking, 4.2, happened to be the best of the bunch.
I read over the reviews. Some of them seemed pretty well-thought-out, and echoed sentiments I'd heard before. Here's an example from someone who rated KU a "5."
The good things?
"Ability to grow within the organization. Senior staff cares about all staff's personal growth. Great campus to work on in a great town."
And the bad things?
"Departments could work together much better. Athletics has too much control on campus affairs, the university is about education first."
That sounds a little like stuff I've heard before, though it obviously varies depending on who's talking to me.
Then there were reviews that looked like this person's, who claimed to be a tutor, and rated KU a "4." Here are the "cons" to working at KU that this person identified (spelling, capitalization and grammar left intact).
"At time i could be too many college kid around for a good gorwn fun! But Nothing like being young"
Most of the reviews seemed to come from graduate students or even undergraduates, with few faculty members seeming to participate.
So — without making judgment on whether KU is a great or terrible place to work — I'd advise you take this particular ranking for what it's worth.
• Here's an article from the Wall Street Journal (written by KU journalism alumnus Kevin Helliker) that details an effort at Texas Tech University that offers programming for students recovering from drug and alcohol addiction.
"A growing number of universities are following Texas Tech's model by creating so-called recovery communities, which often feature on-campus clubhouses, recreational opportunities, academic support and recovery courses," Helliker wrote.
The article mentions the experience of Darian Kelly, a 21-year-old who dropped out of KU his first semester of his freshman year, and then dropped out of Pittsburg State his second semester.
He told the newspaper "I couldn't get away from booze and drugs."
It's easier now that he's enrolled at the College of the Ozarks, he said, which is one of the Princeton Review's "Stone-Cold Sober Schools."
Another interesting fact from the article — Texas Tech estimates its program helps retain about 2 percent of tuition revenue each year.
Though KU does offer psychological and counseling services, If the university has similar programming to Texas Tech's, I'm not aware of any. It certainly doesn't seem to be listed on KU's "Getting Help" page on its alcohol.ku.edu website, at any rate.
• I spotted a new job posting on KU's website that looked interesting — a project coordinator for the Office of Study Abroad.
Sue Lorenz, the director of KU's study abroad program, said the new position in the office would work with schools, departments and other units to help incorporate study abroad options into the curriculum and developing potential new relationships with outside universities.
The idea is to be proactive, she said, in looking for good spots along the path to a degree to offer study abroad options. The office has done similar things in the past, Lorenz said, but only after being invited by other departments. She said she hoped that by getting the information out to various departments and schools, students could plan for the programs a little better.
The new position is being advertised for a $56,000 salary.
• You don't need a project coordinator to tell you how to submit tips to Heard on the Hill. All you have to do is send them to ahyland@ljworld.com.
Copyright 2018 The Lawrence Journal-World. All rights reserved. This material may not be published, broadcast, rewritten or redistributed. We strive to uphold our values for every story published.