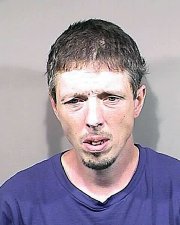 A Minnesota man suspected of kidnapping his wife and robbing a bank in Ottawa, Kan., was arrested Monday in Mexico, and his wife was recovered.
The FBI's Minneapolis Field Office said Timothy Glen Caskey was arrested without incident by Mexican police at a bank in the town of Matamoros. He was tracked there by U.S. marshals and FBI agents who had located the couple earlier in the day.
Caskey allegedly kidnapped his wife, Roberta Lynn Caskey, off a street in the northeastern Minnesota city of Virginia on July 14. He had a long history of domestic violence and had been released earlier in the day from a regional jail near Duluth after violating an order for protection that she had obtained.
The FBI said Roberta Caskey appeared distraught but no further information on her health was immediately available. The agency said she would be returned to Minnesota, while Timothy Caskey would be extradited to the U.S. where he'll have an initial federal court appearance in San Antonio.
Timothy Caskey had been sought on federal and state kidnapping charges along with a state false imprisonment charge and a parole violation. In addition, he also is being investigated for robbery of Great Southern Bank in Ottawa, Kan., on the day after the kidnapping; and for the theft of a pickup truck in New Braunfels, Texas, the day after that.
Police in Virginia said Timothy Caskey, 40, suddenly drove up to his 44-year-old wife on the evening of July 14 as she, a friend and others were walking along a street. They said he grabbed her and dragged her into the truck, striking the friend and her 9-year-old son in the process.
Authorities had suspected Caskey would flee to Mexico, given he was once picked up in Ixtapa by American authorities during a previous run-in with the law.
Copyright 2018 The Lawrence Journal-World. All rights reserved. This material may not be published, broadcast, rewritten or redistributed. We strive to uphold our values for every story published.