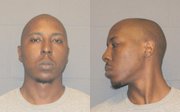 A Douglas County judge Tuesday ordered a 30-year-old Lawrence man to stand trial on child abuse charges.
A Lawrence police detective testified at the preliminary hearing for Stanley E. Burleson that the defendant said he used a belt to discipline his girlfriend's two boys, ages 14 and 12, on July 6 at a Lawrence home because they disobeyed his instructions about going to a swimming pool.
Burleson told police he didn't believe he abused the boys, who received treatment later at Lawrence Memorial Hospital for bruising and other injuries.
"There was a break in the beating, and then he decided to have the children remove their clothing," said District Judge Peggy Kittel summarizing testimony, "apparently to make the children feel the beating more severely, since he felt they hadn't gotten the message before."
Lawrence police Detective Mike McAtee testified about a July 7 interview he had with Burleson after the boys' grandmother called police.
McAtee said Burleson told police when they got home he struck each boy in their legs and buttocks area with his woven belt. Police accused him of striking each boy multiple times on two separate occasions and at one point standing over the older boy with his hand around his throat.
"He made the comment that he could kill the individual, and nobody would know and/or care," McAtee said.
Burleson, who had been living in the home, faces four counts of child abuse and one count of making a criminal threat. The boys are in protective custody now.
The boys' mother, Laura L. Sanders, 34, also faces two counts of child abuse, and she is accused of also striking the boys with a belt when she came home a few hours later that day, McAtee testified. Sanders faces a preliminary hearing in the case Sept. 6.
Kittel scheduled Burleson's trial for Nov. 2, and his attorney, Branden Smith, said he intended to file a motion asking the judge to determine whether Burleson's confession was voluntary and could be used at trial.
Copyright 2018 The Lawrence Journal-World. All rights reserved. This material may not be published, broadcast, rewritten or redistributed. We strive to uphold our values for every story published.