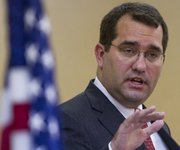 Kansas Attorney General Derek Schmidt voiced concern Monday during a visit to Lawrence about some of the Kansas Bureau of Investigation's resources and staffing levels.
"The KBI has terrific skill in terms of firearms and ballistic analysis, but the capacity is not nearly where it needs to be," said Schmidt, who spoke to the Lawrence Noon Rotary Club on Monday at Holiday Inn Lawrence, 200 McDonald Drive.
Schmidt, a former Republican state Senate majority leader who took office in January, said he was still trying to verify a KBI report that said: Once a local law enforcement agency submits a firearm for testing, the process can take up to 48 months unless there are extraordinary circumstances about the case.
In the last couple of years, state leaders worked to reduce the KBI's DNA sample testing backlog. To do that, former Attorney General Steve Six's administration used funds from a federal grant and scored money from the Legislature. Six, a Democrat and Lawrence attorney, lost to Schmidt in last November's general election.
"The point is, it is a lengthy backlog. It is problematic. Just like last year the focus was on DNA in the backlog, now it's firearms in a backlog," said Schmidt, who oversees the KBI. "It is a broad structural issue that's caused by a disconnect between funding and capacity, and we need to make that connection again."
Schmidt, who has appointed Topeka police Capt. Kirk Thompson as the bureau's new director, pending Senate confirmation, said the KBI's staffing levels and testing capacity seem to be a product of the recession and the effect of several small budget decisions made over time.
"I think we need to do a better of telling that story and just pointing out that these policy choices have consequences, and we want to be sure that policymakers are fully informed when they make their decisions," said Schmidt, who is originally from Independence.
Copyright 2018 The Lawrence Journal-World. All rights reserved. This material may not be published, broadcast, rewritten or redistributed. We strive to uphold our values for every story published.