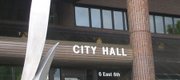 Subscribe to the email edition of Town Talk and we'll deliver you the latest city news and notes every weekday at noon.
News and notes from around town:
• Soon, you will be able to add to your South Iowa Street shopping list authentic tamales, fresh Mexican pastries, some ripe Chihuahua and a host of other Latino products. Lawrence businessman Lucio Soria is set to open Mi Tiendita in a space next to the gasoline station and liquor store that is adjacent to Best Buy at 31st and Iowa. Mi Tiendita (which I believe is Spanish for "my little store," although my lack of Spanish language skills already have been documented) will have a variety of Latino food, leather and household products. Soria, who previously operated a similar store in Columbus, Ohio, said Lawrence's Latino population is starting to grow, and he believes the store's location along South Iowa Street will help him attract the non-Latino population as well. Soria intends to have fresh Mexican pastries and bread brought in daily from a bakery in Emporia, a selection of Mexican sausages, Mexican-made leather boots and jackets, phone cards (which he says are very popular in the Latino community), and perhaps even souvenirs such as authentic piñatas that are made from clay instead of paper maché. But what about these ripe Chihuahuas? No, no. Chihuahua in Mexico is more than a dog. It also is a state and a city, and, yes, a cheese. The store plans to have a selection of Mexican cheeses, including Queso Fresco, Queso Cotija, and Queso Chihuahua, which is a good melting cheese for quesadillas, I'm told. But still, I wouldn't tell your gringo friends that you're serving them Chihuahua. Mi Tiendita is expected to open by the end of the month. Its hours will be 9 a.m. to 9 p.m.
• It looks like the coming days will shed some light on what elected officials may try to do to keep the state's SRS office in Lawrence. As we have been reporting, county commissioners and their attorneys have been meeting behind closed doors in executive sessions to discuss options for keeping the social service provider in Lawrence. Administrators, along with a handful of selected elected officials from the city, county and school district also have been meeting privately. But on Tuesday, city commissioners are scheduled to receive a public briefing of the various options under consideration. The item appears on the agenda for the city's 6:35 p.m. meeting on Tuesday. But the agenda does not include any documents spelling out what options are under consideration. I guess we'll just have to wait and hear the report.
• Motorists in West Lawrence may have noticed dirtwork underway near Sixth Street and Queens Road. That work is a sign of new apartments to come to the area. As we reported in April, a development group has filed plans for 300 apartment units to be built along that stretch of Sixth Street. According to plans I previously reviewed, the project would stretch from Stoneridge on the west to Queens on the east. Plans also call for some commercial/office development at the intersection of Stoneridge and Sixth. I believe the work you are seeing now is just for the apartments. Plans for the commercial part of the project haven't been set yet. The type of commercial zoning present on the site, though, doesn't allow for traditional retail type of development. Instead, it is more suited for banks, offices, and other professional service type of businesses — although some small neighborhood retail like a sandwich shop would be allowable. In the past, I haven't had luck getting in touch with the out-of-town development group, but if that changes, I'll report back more.
Copyright 2018 The Lawrence Journal-World. All rights reserved. This material may not be published, broadcast, rewritten or redistributed. We strive to uphold our values for every story published.