Photo Gallery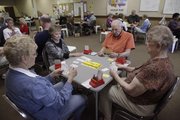 Lawrence bridge players build community through card game
In the storefront of a defunct North Lawrence mall — right next to the driver's license office — Chris Lane scrawls on a whiteboard.
Diamond and spades. Kings and Jacks. Arrows going from one place to another, and her voice gaining an excitement and an edge with each stroke of the marker.
"If I've got that meat ax, I'm not going to overcall," she says to a crowd of students, some nodding in a polite but vicious agreement. "I'm going to double it."
I'm going to — perhaps — mess in my pants.
I'm about two weeks into my exploration of the world of bridge, the historic card game that once seemed to rule the world of entertainment. Fortunately, I learn that a meat ax is just slang for a killer hand. But still, I'm nervous. This class is about over, and I'm just minutes from playing my first bridge game. And it really has hit me what so many players previously had told me: I'm not learning a card game; I'm learning a foreign language — the language of bridge.
That's disconcerting to me. You see, I'm the fellow who took 16 hours of Spanish at Kansas University, and then just recently — in a one-word conversation with a Spanish speaker — screwed it up. I said por favor — the Spanish word for please — when I meant to say gracias — the Spanish word for thank you.
I didn't have the heart to share that story with my fellow bridge classmate, former KU Chancellor Robert Hemenway. (It can be that type of a game. About a third of the people in the room have doctorates.) But the story is true. Oh well, it will come in handy.
I won't have any trouble recognizing the look of confusion my bridge partner is soon to give me.
• • •
Bridge is certainly spoken in Lawrence. In fact, the city is sort of a capital for the game in this area. Five days per week, the Kaw Valley Bridge Club meets in its rented space in the I-70 Business Center. The club is open to anyone who has an interest in bridge, and for $6 you can play in a game that will while away anywhere from three to four hours.
"It is a very cheap way to buy insults for a whole afternoon," said Eldon Herd, who has played the game since the 1950s and is one of the driving forces in the club.
On many days — especially the big Wednesday and Friday games — upward of 50 people will show up to play. The room has hosted more than 80 players on occasion. The club's roster has several hundred names, and about 40 percent of the players are from out of town. While I was there, I met players from Manhattan and St. Joseph, Mo.

It also is not hard to meet people who play bridge three to four times per week. That includes 91-year-old Virginia Seaver, who club members say has been the "focal point of local bridge" for as long as anyone can remember.
Imagine doing anything at 91, and then imagine trying to keep track of 52 cards, and remembering who has played them and who still has them. When you've done that once, then do it for at least another 20 hands to get you through the afternoon. I ask Seaver whether she can really do that.
"I'd better be able to," she says.
She does. On the big Wednesday game I watched, her 91-year-old mind was the champion.
"Lucky me," she says.
It is certainly not hard to find people willing to talk about bridge. Many are walking bibliographies of books an aspiring bridge player ought to read. One particular article — a 2007 piece from The New Yorker — is often recommended. That article tells how in the 1920s, a Kansas City woman fatally shot her husband after he badly misplayed a hand. (A 4 Spade contract, for you nervous husbands.) She was acquitted.
And it is just plain easy to find people who have built friendships around the bridge table. Herd said learning to play bridge was "one of the luckiest things to ever happen to me." And the club's top-ranked bridge player — Ed Howard — recently married a fellow bridge player. They had a reception at the club that consisted of playing bridge. The couple did not play together. Howard has read the article.
• • •
It is my day off, and I'm reading a bridge book. It is 340 pages, and it is about nothing but bidding. A bit discouraging, considering that bidding is the part of the game that takes place before you even start to lay any cards on the table. There are three more books of equal length that talk about the actual playing of the cards and other aspects.
But bidding is important. It is the foreign language part of this game. Your bid tells your partner something about your hand. Your partner's bid tells you something about his. The bids ask questions. There are endless questions because the same bid can mean different things depending on when it was made and what it was made after. For example, a bid of 2 Clubs may not mean anything at all about Clubs. Such tricky bidding is called a convention. Yes, there are entire series of books written about nothing but conventions. I tell the room upfront that the only thing I know about conventions is that they sometimes are a good place to get free drinks.
My very first hand, I have to make a bid. That's the thing about bridge. The cards dictate what you have to do. If I were to pass with this hand, my partner may pass out. Of course, I bid it wrong. My partner — Herd — realizes that when the hand is completed.
"That will be a good one for us to go back over when we're finished," he says.
If I knew we were going to do that every time I messed up, I would have brought my pajamas.
I quickly realize I wish I had Virginia's 91-year-old mind. Honestly, I sometimes forgot the last card I played, let alone what someone else played. One hand was murder. It seemed like every card I played went wrong. At the end of the hand, my partner congratulated me. We had done well. Go figure.
But that was rare. I did not know a deck of cards could bludgeon a man so badly. Near the end of the game, I learned one of the fellow players is the mother of Lawrence's police chief. I wish I would have known earlier. I would have called him. Surely, what these people were doing to me was a crime.
• • •
Grant Sutton stands out in the room. An untucked button-down shirt, frayed khakis, and sandals without socks. At 30 years old, he's clearly the youngest player in the room — perhaps by 25 years.
But he looks like a card player — just the new generation of card players. That's why he stands out. The new generation of card players doesn't play bridge. Poker has made card playing cool among the younger set again.
Sutton says he plays that game too. In fact, a few investments and online poker basically have allowed him to live a life of card playing.
"It is a good life if you can get by with it," he says.
Sutton doesn't play bridge for money. It can be done, but few do. He plays it because it is a better test of skill. In duplicate bridge — the kind the club plays — the element of being dealt a good hand is removed. Every hand is dealt before the beginning of the game. The cards are never shuffled again. By the end of the day, each player will have played the same hand once. Scoring for the tournament isn't based on whether you win the hand, but rather how well you played a particular set of cards compared with how everybody else played that set.
"The problem with poker is that everybody thinks they are better than they are," Sutton said. "That's not a problem in bridge."
I'm not an expert in either game, but the two seem to have a fundamental difference: In poker, you go to the table alone and often lie to the world; in bridge, you have a partner whom you always try to be true to.
"One of the most important things in this game is you have to trust your partner," Herd says. "Every partner makes mistakes, but if you stop trusting, things start to destruct."
Sutton hopes some poker players find their way over to bridge.
"I hope we can sell it," he says. "It is a beautiful game."
A beautiful philosophy.
• • •
By the end, it was just me and Herd and the pair we were playing. I was the slowest player there. I made no apologies. I was just glad I didn't have to resort to taking off my boots to do all the arithmetic involved in the game. My brain was tired, and Sutton was standing behind me. I would point at a card and look to see how he shook his head.
I did not see a name for this strategy in the books I read. I think it might be called cheating. It was the best strategy I used all day.
How did the day end, you ask? My brain was so mushy I don't honestly remember, but it probably ended with me putting my partner and me in the wrong suit and failing to make the contract. But it also ended with me going home and looking for a bridge program online.
As for a score, it is complicated in duplicate bridge, but Herd tells me that we took the top spot for one hand. In other words, we played that set of cards better than anybody else. Many others, we did not. But I'll take it for a beginner.
What's that, you say? Congratulations? Well, that's very nice of you. As they say in Spain, por favor.
Copyright 2018 The Lawrence Journal-World. All rights reserved. This material may not be published, broadcast, rewritten or redistributed. We strive to uphold our values for every story published.