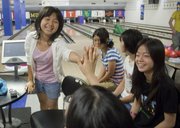 Asami Takashima is a first-time visitor to the United States, and she's already chosen the word that best describes it: "big."
"Everything is so big — the schools and the food," said Asami, 16.
She is one of 18 students from Lawrence's sister city Hiratsuka, Japan, in town this week. She's here as part of an exchange program allowing middle and high school students from Japan to spend time in Lawrence and vice versa.
She and other Hiratsuka students arrived July 29 and will stay until Sunday. They have already seen a number of area attractions, including Allen Fieldhouse, Free State High School and Central Junior High School. On Monday, they met with Lawrence City Commissioner Bob Schumm at City Hall and visited the Japanese Friendship Garden at 1045 Mass., which their city helped plan and to which it donated $5,000 and two pieces of art.
Ryusei Mizusawa, 15, said that Lawrence was "very beautiful" and that his favorite part of America so far was a trip to Worlds of Fun.
Each year, about 20 Lawrence middle and high school students travel to Hiratsuka and one of Lawrence's other sister cities, Eutin, Germany. To prepare, students spend nine months taking monthly culture and language classes before making the trip.
"We learned how to communicate with them," said 14-year-old Anna Clayton, who went on the Hiratsuka trip in June. She added that many of the Japanese students spoke English, which made communication easier.
"When we went to the elementary school, they all wanted our autographs," said Jet Stream Secretary Lizzy Smith, 16. "They liked the way we wrote cursive."
Though Lizzy went on the trip last year, she was able to stay involved with the program through a new club, Lawrence Jet Stream. The club, which is sponsored by the Lawrence Sister Cities Advisory Board, allows alumni from previous trips help train the next batch of students. They got the idea from a Jet Stream club in Hiratsuka, which was made up of Japanese students who had visited Lawrence.
"Before, it felt like we threw our whole hearts into it, and there was no way to stay involved," said Amanda Puentes, chairwoman of Lawrence Jet Stream, who went on the trip in 2004. "Now alumni can continue to build a relationship with friends and host families in Hiratsuka."
About 400 people have participated in the student exchange program to Japan since 1991.
Jennie Ellis, one of the Lawrence Jet Stream's organizers, said alumni interested in participating in the program should get in touch via email at lawrencejetstream@yahoo.com.
Before the Hiratsuka students return to Japan, the group plans to visit the Capitol in Topeka and the Oz Museum in Wamego. Though the trip is designed for Hiratsuka's youths, they aren't the only ones who feel they have gained something from the exchange program.
"I am really touched by the people here," said Kyonosuke Yasuda, who works for the city of Hiratsuka and is one of three chaperones on the trip. "I hope the trip will help strengthen the relationship between our cities."
Copyright 2018 The Lawrence Journal-World. All rights reserved. This material may not be published, broadcast, rewritten or redistributed. We strive to uphold our values for every story published.