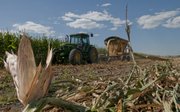 100 degrees and up
Tuesday's high temperature in Lawrence topped out at a record 108 degrees, the 15th such day so far this summer in which mercury hit triple digits.
But don't start sweating tears just yet.
The record for number days in a single year with temperatures of at least 100 degrees is 58, set in 1936. That's also when the longest streak of such days hit: 19 in a row, from Aug. 9-27, 1936, in the midst of the devastating Dust Bowl.
Furnace-blown temperatures and prolonged dry conditions are tugging soil away from foundations, knocking out power to homes and sending folks to the hospital for heat exhaustion, heat stroke and other heat-related conditions.
All as a financial lifeline for dozens of county farmers struggles to survive.
"One hundred-plus degree temperatures make plants die — all kinds of plants, including corn," said Bill Wood, director of K-State research and Extension in Douglas County. "We've gone from looking good to very sad."
Wood said he wouldn't be surprised to see the county's 26,000 acres of corn struggle to yield an average of 60 bushels an acre, which would be half the usual harvest that typically begins in late August and continues into September. Tall green stalks have turned brown, likely costing the area more than 1.5 million bushels of feed corn.
"We still go to work and get a paycheck at the end of the month," said Wood, whose office is at the Douglas County Fairgrounds. "If a farmer can't harvest, that paycheck has dried up."
Douglas County received 3.11 inches of rain in July, or 78 percent of the 3.97 inches normally received, said Mary Knapp, state climatologist.
In addition to parching crops, the relatively dry conditions have left gaps widening between home foundations and the soil surrounding them.
Best advice for avoiding concrete damage: Wait until early September, then pour topsoil into the voids, tamp it down and apply water while leaving enough slope so that water flows away from the foundation, said John Stevens, owner Concrete Inc.
"If you water it right now, with that big gap and any kind of a foundation crack, you're just likely to wet your basement," said Stevens, whose been repairing foundations and other concrete for 15 years from his base southeast of Lawrence.
Tuesday's heat damaged some equipment for Kaw Valley Electric, knocking out power for 75 customers just outside the western edge of Lawrence. The outage left David Dye without his work computer — and, more importantly, air conditioning — for nearly two hours.
"We lose power quite frequently," said Dye, who made arrangements for himself and his 2-year-old child to stay the night elsewhere, in case the power outage endured. "Just not on days like today."
Copyright 2018 The Lawrence Journal-World. All rights reserved. This material may not be published, broadcast, rewritten or redistributed. We strive to uphold our values for every story published.