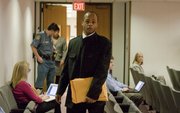 A Kansas City, Kan., man could be the biggest beneficiary in a Douglas County murder case after his co-defendant's unsuccessful attempt to withdraw a guilty plea in the case.
Durrell Jones, 24, is scheduled to face his second trial next Monday as prosecutors accuse him of killing Lawrence hip-hop artist Anthony Vital, whose body was found in 2006 west of Lawrence. A jury in March was unable to reach a unanimous verdict in Jones' case.
Co-defendant Major Edwards Jr., 31, of Lawrence, testified at the first trial that he saw Jones shoot Vital to collect on a drug debt. But Edwards' attorney, Napoleon Crews, said in open court two weeks ago that prosecutors had provided him with allegations from a fellow jail mate, Joe Hunter, who claims Edwards told him he murdered Vital.
Edwards in hand-written letters to Chief District Judge Robert Fairchild insists he has not talked to anyone in jail about his case.
"To(o) many people have lied on me to get a time cut," Edwards wrote in the letter to Fairchild dated June 30. "The latest person to lie on me was Joe Hunter. The D.A. and you will get a letter once a week saying that I didn't talk to anyone about my case."
According to the Kansas Department of Corrections, Hunter was taken July 21 to the El Dorado Correctional Facility for a 2011 Douglas County theft conviction on top of sentences for forgery and theft in 2009.
Edwards pleaded guilty to voluntary manslaughter in March 2010, and he testified at Jones' March trial that he felt remorse for leading Jones to Vital that night but said he didn't shoot Vital. According to court records, prosecutors agreed to ask Fairchild to reduce Edwards' sentence by four years in exchange for Edwards' cooperation against Jones.
But after the mistrial, Edwards filed a motion seeking to withdraw his plea in the case alleging he was misled into pleading guilty and promised a seven- to eight-year sentence. However, a retired judge at the July 18 hearing denied Edwards' motion. Crews, who had also brought up the allegations Hunter made against Edwards during the same hearing, said afterward he did not expect Edwards to testify at Jones' trial as fallout.
But Edwards filed his own hand-written motion July 21 asking Fairchild to remove Crews as his appointed attorney from the case saying they have had a "complete breakdown in communication."
"Defendant wishes to cooperate right now at this moment with the D.A. against Durrell Jones," Edwards wrote and also alleged Crews the day after the July 18 hearing recommended he "play hard ball" against prosecutors and not testify until he could get a better deal.
Crews has also filed a motion asking to withdraw from representing Edwards also citing a breakdown in communication with his client. Crews is the fourth attorney to represent Edwards in the case.
Although Edwards testified he saw Jones shoot Vital, Jones' defense attorney John Kerns in the March trial questioned Edwards' credibility and said there was evidence Edwards had bragged about killing Vital in prison and even wrote rap lyrics about it.
Douglas County District Attorney Charles Branson declined comment about Jones' case Monday.
Edwards in 2008 was sentenced to serve five years in federal prison for unlawful possession of a sawed-off shotgun, and Jones was also sentenced to serve six years in prison for a federal drug conviction. Jones' projected release date in the federal case is March 31, 2012, according to the Federal Bureau of Prisons.
Copyright 2018 The Lawrence Journal-World. All rights reserved. This material may not be published, broadcast, rewritten or redistributed. We strive to uphold our values for every story published.