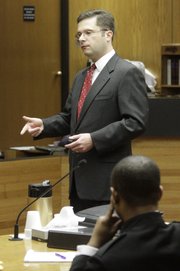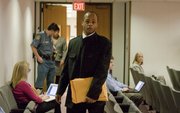 A Douglas County jury Tuesday heard two dramatically different versions of events about who killed Anthony "Clacc" Vital in 2006.
During opening statements Tuesday, prosecutors accused defendant Durrell Jones, 26, of shooting Vital, a 28-year-old Lawrence hip-hop artist, on Oct. 14, 2006, to collect on a drug debt.
"The evidence is going to show that this was a premeditated murder," chief assistant district attorney David Melton said. "And the evidence is going to show the defendant had decided to kill Anthony Vital before they ever turned down the driveway."
But Jones' defense attorney attacked the credibility of the state's key witness, Major C. Edwards Jr., 31, who has already pleaded guilty to voluntary manslaughter in the case. Defense attorney John Kerns said Edwards was high and drunk that night and had bragged about how he was "going to put someone under a bridge."
"(Edwards) talks about how he goes and picks up Clacc, drives outside of Lawrence and blows him away," Kerns said. "He leaves him for dead, shoots him three times."
Jones' first-degree murder trial opened Tuesday morning, and it's expected to last into next week. A rural landowner found Vital's body the morning of Oct. 15, 2006, in his rural driveway west of Lawrence near U.S. Highway 40.
State's evidence
Melton told the jury prosecutors would present several witnesses to testify about events the night before the body was found, when Vital had gone out with Edwards.
Melton also said Edwards' DNA was found on a water bottle near the body and that Jones' DNA was found on an unsmoked Moore cigarette and a Neosporin cap near Vital's body.
Prosecutors argue Jones convinced Edwards to pick up Vital because he wanted to collect money Vital owed him for PCP. Edwards testified Tuesday afternoon that Jones later pulled a gun on Vital and himself and directed Edwards not to stop the car until he had his money. They traveled from near 26th and Iowa streets north to Sixth Street before they headed west out of Lawrence on U.S. Highway 40.
"(Vital) was a husband. He was a rap-music artist, and he was also somebody who had struggled for years with drug use," Melton told jurors.
Edwards from the stand said he stopped the car on a rural driveway and all three men bailed out. He said as Jones and Vital both ran around the car, they met in front of the car, then Jones shot him three times. Jones then threatened Edwards not to tell anyone or he would shoot him, too.
Then the two men returned to a party in Lawrence.
Edwards told jurors he felt remorseful and was wrong to lead Jones to Vital.
"I didn't know he was going to kill him, but I knew it could get ugly because he had a gun collecting money," Edwards said.
Defense focuses on Edwards
Days after Vital's body was found near Lawrence, Edwards was arrested in Mississippi, and Melton also told jurors that prosecutors had agreed to argue to cut four years off of his voluntary manslaughter sentence in exchange for his testimony against Jones. Prosecutors said they would present evidence to try to tie Jones to the murder weapon, a 9-mm handgun, that another man said Jones had stolen from him at a Lawrence party before Vital was shot.
But Kerns painted a different picture of the night, saying Edwards was involved in a party that featured an array of drugs and that witnesses would say Edwards had been driving people around in a borrowed car — called the "community crack car" — all day that he was able to use it because he gave the owner crack cocaine.
Melton said Edwards left Lawrence because he feared Jones would kill him, but Kerns contended Edwards bragged for years while he was in custody that he killed Vital and even wrote rap lyrics about it. And he said Edwards didn't tell investigators a detailed story to implicate Jones until after he entered a plea in the case.
"The evidence you'll hear as presented through this week, you'll see that Major has everything to gain and nothing to lose in his situation," Kerns told jurors in his opening statement.
Kerns asked Edwards about past statements fellow inmates had made saying Edwards had confessed to them he shot Vital. He said he has never told anyone that and that fellow inmates were trying to get lesser sentences in their own unrelated cases.
"I knew it was a whole bunch of people lying," Edwards said.
When Kerns asked Edwards about his lawyer haggling with prosecutors after his plea in the case, Edwards acknowledged that "freedom was important" to him, but he also contended he told his lawyer he would still testify even if it wouldn't shorten his own sentence.
Kerns is scheduled to continue questioning Edwards at 9 a.m. today.
Copyright 2018 The Lawrence Journal-World. All rights reserved. This material may not be published, broadcast, rewritten or redistributed. We strive to uphold our values for every story published.