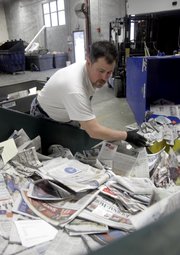 Tom Boxerberger
Raised: In Russell
Occupation: Manager of Kansas University's recycling warehouse.
How long he's been on the job: Seven years. In that time, he has been in three different warehouses. Before his job with the recycling department, Boxberger worked in KU's electric shop and for a company that installed energy efficient lighting.
Why he looks so familiar: Boxberger's night and weekend job is umpiring games for Lawrence's city recreational leagues. So you've probably spotted him at softball, kickball and baseball games.
Family: Wife, Sheri, and two daughters, Elyse and Gretchen.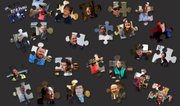 A special section honoring your neighbors, unsung heroes and people who do the little things that just make life better in Lawrence.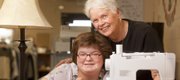 Read about the honorees in the 2011 Only in Lawrence: "Learning" category.
Tom Boxberger spends his day sorting through other people's trash.
And besides being a third baseman for the Baltimore Orioles, there isn't anything else he'd rather be doing.
Boxberger's domain is a 5,000-square-foot warehouse on Kansas University's West Campus. Almost every item that is recycled at KU passes through this facility. With help from a group of student employees, Boxberger sorts through paper, plastic and metal products, turns them in to tightly packed bales and then ships them to processing plants.
"It's a dirty job. Not everyone would want to do it," said Jeff Severin, who is director of KU's Center for Sustainability. "But he has the energy and excitement about recycling that makes him a good fit for that kind of work."
When Boxberger saw the posting seven years ago, it was as if someone had created a job just for him. Prior to that, he had spent 11 years traveling around the country installing energy-efficient lighting.
After his daughter was born, he looked for a job that would keep him closer to home. He found one at KU's electric shop. That's where he saw the opening for managing KU's recycling warehouse. The "absolute perfect job," he said.
Every day Boxberger goes home knowing that he has helped the planet in some small way.
"I know what I do isn't that big of a deal and that there are so many other people out there doing so many other things to help the environment," Boxberger said. "But this is what I do, and I do it well. So, I enjoy it."
Since managing KU's recycling warehouse, Boxberger has moved to three different locations, a testament to how much recycling has increased on campus.
Most of Boxberger's time is spent inside the warehouse. He depends on a steady stream of KU students bringing in the recycling bins from around campus.
It's a physically demanding job and one that allows for few breaks. If he slows down, the recycling stacks up.
The warehouse is remarkably neat. Bins sit stacked on shelves, and bundles of plastic containers are piled in towering rows. In the morning, Boxberger fires up the baler to conquer the tubs full of newspapers that come into the facility. Everything in the warehouse has its place.
"My talent is that I'm really good at organizing," Boxberger said.
While few people visit him at the recycling facility, Boxberger's face might be recognizable around Lawrence as an umpire for Lawrence's softball and kickball leagues. It's a part-time job that gives him exercise and occasional grief from players.
"They are extremely different," Boxberger said of the two jobs.
Boxberger's passion for recycling dates back to his childhood in Russell, when his family would collect aluminum cans. His dad crafted a hydraulic press to crush them.
"There wasn't much recycling in Russell, but my parents still recycle," he said.
Over the years, he's been a recycling evangelist to friends, chiding them when they throw recyclable items in the trash.
While recycling is important, Boxberger said it's actually third in a list of what all of us should do to help the planet.
"Reduce is first, and reuse is second," he said.
Boxberger's influence goes beyond KU. At Schwegler School, where his daughters attended school, he hauled recycling tubs to the Wal-Mart Community Recycling Center once a week for eight to nine years.
"It was just nice to have someone as excited about recycling as I was and willing to do it with such a good attitude," said Deborah Norwood, a fourth-grade teacher who established the recycling program at the school.
Over the years, Boxberger has transported more than 60 tons of recycling from the school, Norwood estimates. His family — wife, Sheri, and two daughters, Elyse and Gretchen, would help.
""I don't know what we would have done without the Boxbergers," Norwood said.
Boxberger was known for praising the students if they had done a good job sorting that week or filled 15 tubs instead of 10, even though it meant extra lugging for him, Norwood said.
Schwegler recently switched to Deffenbaugh Industries to transport its recycling, so Boxberger no longer has to make trips to the recycling center. But he still comes by once a week to collect cans.
"He's my go-to-guy for recycling," Norwood said.
In the end, Boxberger said all he wants is to encourage more people to think about what they can keep out of the trash.
"That is the best thing I can do," Boxberger said. "It is so, so easy to recycle."
Copyright 2018 The Lawrence Journal-World. All rights reserved. This material may not be published, broadcast, rewritten or redistributed. We strive to uphold our values for every story published.