John Griffin
Position: Circulation page at the Lawrence Public Library
Years on the job: Four
Education: English degree from Kansas University
Hometown: Topeka
Favorite part of the job: "Seeing books you'd never be exposed to."
Surprising part of job: "All the up and down" of reshelving can be physically demanding.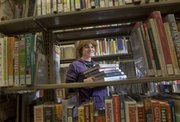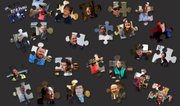 A special section honoring your neighbors, unsung heroes and people who do the little things that just make life better in Lawrence.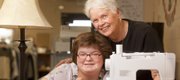 Read about the honorees in the 2011 Only in Lawrence: "Learning" category.
If you've checked out a book at the Lawrence Public Library in the past few years, there's a pretty good chance John Griffin has restacked it.
Griffin, one of the circulation pages at the library, estimates he reshelves about 300 books a day. In his four years on the job, that adds up to more than 200,000 books.
It's a fast-paced environment that changed Griffin's stereotypical view of libraries as quiet, peaceful sanctuaries.
The library sees its share of medical emergencies and the occasional disruptive patron, he said.
"Anytime the police or paramedics show up, it's a little interesting," Griffin said.
Add in kids running around, and the atmosphere is anything but tranquil.
"When it gets quiet, it seems weird," he said.
And the work is never done as books rotate through the drop boxes.
"There's always another one," Griffin said. "It's a constant cycle."
He's pretty adept with the Dewey Decimal system, which quickens that cycle. Griffin showed off his skills in an impromptu challenge at the library recently after predicting he could restack five randomly selected books in less than two minutes. Griffin calmly but purposely snaked through the stacks and finished with time to spare.
The best part of the job is the many opportunities for a good read to cross his path, said Griffin, a book lover who has an English degree from Kansas University.
"They just fall into your hand and you think, that looks interesting," he said.
Copyright 2013 The Lawrence Journal-World. All rights reserved. This material may not be published, broadcast, rewritten or redistributed. We strive to uphold our values for every story published.