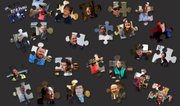 A special section honoring your neighbors, unsung heroes and people who do the little things that just make life better in Lawrence.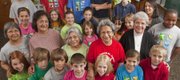 Read about the honorees for the 2011 Only in Lawrence: "About town" category.
What makes the city of Lawrence work? Here are the numbers, averaged out, of services the city provides each week.
13.8 — police officers on duty for the midnight shift
69.4 — millions of gallons of water distributed by the city
81 — number of youth and adult games played
184 — classes held at the Nature Center, Aquatic Center and recreation buildings
190 — calls for service by Lawrence-Douglas County Fire Medical
230 — feet of water main replaced
319 — miles of streets maintained
1,256 — tons of trash collected
7,826 — feet of sewer line that is cleaned and inspected
14,000 — rides on the T
592,829 — dollar amount of sales tax collected
Source: City of Lawrence
Copyright 2018 The Lawrence Journal-World. All rights reserved. This material may not be published, broadcast, rewritten or redistributed. We strive to uphold our values for every story published.