Thane Haug
Age: 33
Position: On flower-planting crew at Kansas University
Years on the crew: Eight
Best part of the job: "We're one of the luckiest crews, because we hear more compliments than complaints."
Least favorite part of the job: Pulling weeds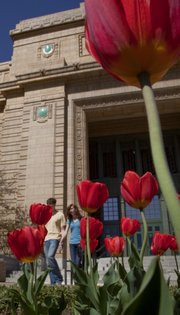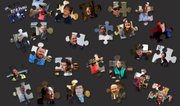 A special section honoring your neighbors, unsung heroes and people who do the little things that just make life better in Lawrence.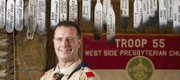 Read about the honorees for the 2011 Only in Lawrence: "Community" category.
Thane Haug is an artist with a couple of nails, some string and a can of spray paint. Those are the simple tools it takes to make a perfect bed of tulips.
Haug, 33, is one of five people on Kansas University's flower crew, which plants 10,000 tulip bulbs and 5,500 annuals on campus every year. Those recognizable flowers that blanket campus aren't the team's only responsibility, though. The crew keeps Jayhawk Boulevard free of trash, removes snow during the winter and generally keeps the campus' main street looking nice.
Haug joined the flower crew eight years ago, when Facilities Operations put together a separate team for flowers.
"Before that, they had just any crew do it," he said. "Things weren't turning out right."
Now the crew plants all the flowers, and each member specializes. Haug is the one who strings out lines and spray paints the lines so all the tulips will be planted in a straight row.
He says it's important to make the beds look as beautiful as they do. And they plant for a week straight.
The crew plants the 12 to 15 tulip beds in October and hopes for them to bloom around Easter.
Mike Lang, campus landscape manager, said the formal areas around campus get a lot of the focus from the flower crew, such as in front of Strong and Smith halls, the Chi Omega fountain and the chancellor's residence.
"It puts on quite a display each spring," he said. "It really brightens campus up."
Haug said every bed on campus was different, and crew members had preferences to what they liked to plant. The flowers impress parents when they come to visit campus.
"We're one of the luckiest crews, because we hear more compliments than complaints," Haug said.
When the tulips die, the crew replaces them with a new bed of annuals, Lang said.
What's the boring part of the job?
Pulling weeds.
"We're constantly pulling weeds, so it does get old quick," Haug said.
When Haug goes home at night, he has a garden to tend to there as well. He grows flowers as well as vegetables.
He loves what he does.
"It's different every day," he said. "It's unlike an office job."
When Haug isn't planting flowers on the job, he's often fertilizing the beds, which happens once or twice per week. The crew also removes snow, especially the sand that is put on the roads, and clears Jayhawk Boulevard of trash every morning soon after starting work at 6:30 a.m.
Lang said the crew is also responsible for catching any animals that might meander onto campus, including squirrels, bats, skunks, foxes, opossums and raccoons.
But Haug's No. 1 love is the flowers, and how they positively reflect on KU.
"Very few universities do it up like we do," he said.
Copyright 2018 The Lawrence Journal-World. All rights reserved. This material may not be published, broadcast, rewritten or redistributed. We strive to uphold our values for every story published.