Photo Gallery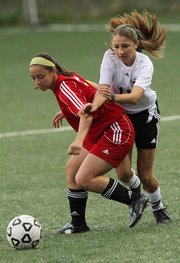 Free State soccer vs. Shawnee Mission North
The best kind of confusion broke out after Free State High's soccer game on Tuesday night.
As the Firebirds packed up their gear and began to make their way off the field, a voice rang out: "Raise your hand if you scored a goal."
Plenty of hands shot into the air, and plenty of smiles followed after the Firebirds dismantled Shawnee Mission North, 8-0, on Tuesday night at FSHS.
"I think we just came out with the mind-set that we were going to score," said senior Hillary Yoder, who scored twice and tallied an assist. "Yesterday, we had so many missed opportunities, I think we just got them out of our system."
It wasn't merely a matter of shots finding the back of the net, either.

FSHS (8-3) controlled the game from start to finish, rarely letting SM North move past midfield, if at all.
The Firebirds, who have won three straight, were simply too strong on the attack; they possessed the ball with confidence, set up a multitude of chances with crisp passing, and ultimately made it a long evening for SM North's defense.
Goalkeepers Elena Auer and Anneliese Ann Hierl combined for the shutout — though neither was tested with a serious scoring opportunity.

"The good thing is seeing us play well and finish on top of that," coach Kelly Barah said. "That's the most exciting thing."
Kathryn Sarraf, Kylee Loneker, Maddie Dieker, Chelsea Casady, Alexa Harmon-Thomas and Regan Keasling each scored for the Firebirds, who cruised into the half with a 6-0 lead.
That didn't stop the Firebirds from staying aggressive after the intermission.
Aside from two second-half goals, there could have been plenty more if not for a few nice saves and a few narrow misses.
"Our second half was just as good as our first half … we just want to get better," Yoder said. "We don't want to take a step backwards."
FSHS will play at Olathe South at 7 p.m. on Thursday. Barah called it another good opportunity to see where the Firebirds stack up against one of the best teams in the Sunflower League.
Copyright 2018 The Lawrence Journal-World. All rights reserved. This material may not be published, broadcast, rewritten or redistributed. We strive to uphold our values for every story published.