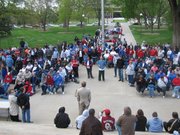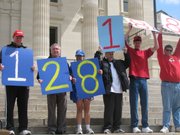 Topeka — As thousands of Kansans with disabilities wait for services, several hundred people rallied Wednesday against funding cuts to those services.
"They should do the right thing," said Kathy Lobb of Lawrence. "The waiting list seems to go up every year," Lobb, a consumer representative with the Self-Advocate Coalition of Kansas, said.
More than 4,650 children and adults with developmental disabilities are waiting to receive disability services.
Advocates for those with disabilities said Gov. Sam Brownback and the Legislature need to approve a multiyear funding plan to address the issue.
"We need legislators to try their best to eliminate the waiting lists," Matt Fletcher, associate executive director of InterHab, said during a chilly, windy event on the southside of the Capitol. InterHab is an association of disability service providers.
After a three-week break, the Legislature resumed its session Wednesday. The House and Senate are supposed to complete work on a budget for the fiscal year that starts July 1.
Tom Laing, executive director of InterHab, said legislators have carved out $2 million in proposed funding to help those on the waiting lists. And while that is appreciated, Laing said, "it doesn't really scratch the surface."
That funding should provide services to approximately 200 people, but more than that number will be added to waiting list over the next fiscal year, he said.
Copyright 2018 The Lawrence Journal-World. All rights reserved. This material may not be published, broadcast, rewritten or redistributed. We strive to uphold our values for every story published.