Photo Gallery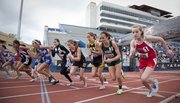 2011 Kansas Relays - April 23: Free State and LHS
City Results
Boys discus — 9. Blake Hocking, LHS, 44.34 meters
Boys 1600 sprint medley — 21. FSHS (Cameron Dabney, Austin Hoag, Connor Chestnut, Logan Sloan), 3:52.91
Girls 1600 sprint medley — 11. FSHS (Khadijah Lane, LaKeisha Wilson, Rachel Schaffer, Bailey Sullivan), 4:32.81
Boys 4x200 medley relay — 19. FSHS (Cameron Dabney, Austin Hoag, Lamont Crockett, Dayshawn Berndt), 1:33.89
Girls 4x880 relay — 11. FSHS (Bailey Sullivan, Hayley Francis, Rachel Schaffer, Lynn Robinson), 9:57.00; 25. (Emily Davidson, Alexis Schiebler, Payton Covert, Michala Ruder), 10:32.02
Boys 4x880 relay — 4. FSHS (Stan Skwarlo, Preston Newsome, Logan Sloan, Kain Anderson), 8:13.59; 17. LHS (Josh Shump, Philip Gabler, Gavin Fischer, Reid Hildenbrand), 8:27.84
Boys 4x100 relay — 6. LHS (Chris Gaston, Asaph Jewsome, Austin Flory, Trent Edwards), 44.82
Girls long jump — 7th place, Alexa Harmon-Thomas, FSHS (5.39 meters, 17-07.50)
Girls 100 hurdles — 3rd place, Alexa Harmon-Thomas, FSHS, 14.61
Girls 1600 — 15th place, Lynn Robinson, FSHS, 5:20.42; 18th place Hayley Francis, FSHS, 5:25.02
Boys 1600 — 23rd place, Preston Newsome, FSHS, 4:31.31; 24th place, Kain Anderson, FSHS, 4:31.44
Boys 4x400 Sunflower Showdown — 8. FSHS (3:36.11)
Though it was more than a few years ago, Free State High track and field coach Steve Heffernan remembers how his Firebirds would always seem to struggle at the Kansas Relays.
Heffernan's teams would be able to rebound in time for the state championships, but the lackluster showings at the Relays always left something to be desired.
It was a much different feeling for Heffernan after Free State's performance at the Relays on Saturday afternoon at Memorial Field.
"It's a whole lot better feeling when you come in and have a good performance," Heffernan said. "You can build off of that instead of feeling like you have to come from behind (at the end of the year)."
Freshman Alexa Harmon-Thomas finished third in the 100 hurdles (14.61) and seventh in the long jump (5.39 meters) to lead the Firebirds, who also placed well in a multitude of distance events.
"It's a great experience," said Harmon-Thomas, who had to hustle to make the long jump finals after finishing the hurdles. "I made some really great friends. It was really fun to run in front of my friends and family."
Heffernan was especially impressed with the performance of junior Lynn Robinson, calling her a unique combination of talent and speed.
Robinson helped the FSHS girls 4x880 relay team (with Bailey Sullivan, Hayley Francis, and Rachel Schaffer) to an 11th-place finish at 9:57.00 and also finished 15th in the 1,600 with a time of 5:20.42.
"A year ago we couldn't convince her to run the mile, and now I don't think she'd let us pull her out of it," Heffernan said.
Like Heffernan, LHS coach Jack Hood recalled some rough performances at the Relays, including an underwhelming event last year.
"It's such a high-pressure thing for the kids," Hood said. "It either makes them or melts them. There's been years where you fall apart and spend the next few weeks having to rebuild."
Not this year.
Hood had plenty of good things to say about how the Lions performed, mainly the personal-record times from both 4x880 relay teams.
The LHS girls team (Emily Davidson, Alexis Schiebler, Payton Covert, Michala Ruder) took 25th at 10:32.02, while the boys (Josh Shump, Philip Gabler, Gavin Fischer, Reid Hildenbrand) finished 17th with a time of 8:27.84.
The LHS boys 4x100 relay team (Chris Gaston, Asaph Jewsome, Austin Flory, Trent Edwards) took sixth in the Sunflower Showdown with a time of 44.82, and Blake Hocking was ninth in the discus.
"We're heading in the right direction," Hood said. "There's room to improve, but I liked what I saw this weekend. We did as well or a little better than I thought we would do."
The FSHS boys 4x880 relay team — Stan Skwarlo, Preston Newsome, Logan Sloan, Kain Anderson — finished fourth at 8:13.59, and the girls 1,600 sprint medley team — Khadijah Lane, LaKeisha Wilson, Rachel Schaffer, Bailey Sullivan — was 11th at 4:32.81.
Preston Newsome finished 23rd in the boys 1,600 at 4:31.31, and Anderson was right behind him in 24th at 4:31.44.
"The second day is always pretty challenging at the relays because you come in after Friday really excited, so a lot of people come out pretty tired," Heffernan said. "It's really how well you can compete when you're not quite up to speed."
Copyright 2018 The Lawrence Journal-World. All rights reserved. This material may not be published, broadcast, rewritten or redistributed. We strive to uphold our values for every story published.