Photo Gallery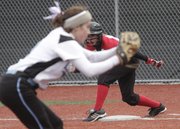 Lawrence High softball vs. Shawnee Mission East
With an 0-2 count, two outs and a runner on third base in the bottom of the ninth inning, Lawrence High senior Lauren Massey was just looking for a pitch on which to get her bat.
"If it was there, I just wanted to make contact and get a hard ground ball," Massey said.
Massey found what she wanted.
She lined the pitch off the third-base bag to score senior Kristen Bell, giving the Lions a 5-4 comeback win against Shawnee Mission East on Tuesday at LHS.
The Lions (7-6) trailed 3-0 after the Lancers' top half of the third inning.
At the time, coach Reenie Stogsdill wasn't optimistic. Massey wasn't pitching like her usual self. The fielders weren't zoned in, throwing away outs they usually made.
But a three-run bottom of the third drew LHS even.
"Once we got those runs, we changed," Stogsdill said. "Then I think they believed that we could win this game. Then I saw the team that I love out here. I'm not sure what was going on at the beginning, but we weren't really playing like us."
The Lancers added a run in the top of the fourth, and the teams traded zeroes until the bottom of the seventh.
Before the inning, Stogsdill looked in her dugout and uttered some rallying words.
"Everyone's staying positive," Stogsdill said.
Junior Mallory Reynolds singled to right field and was sacrificed to second by Bell. Senior Kasey Waite flew out to right field for the second out, but Massey barely beat out a throw for a single to keep the Lions' hopes alive.
Junior Lauren Byrn capitalized on the opportunity, singling through the right side and pulling the Lions even again.
"We go to extra innings quite a bit," Massey said.
In the bottom of the ninth, Bell tripled to left-center with one out. Waite flew out to right field again, leaving the rally in Massey's hands.
She didn't let the Lions down, drilling the third-base bag and securing the victory.
However, the victory celebration was overshadowed. Senior Rachel Kelly, who is a member of the softball team but cannot play because of concussion-related symptoms, was taken off the field on a stretcher shortly after the game.
She was celebrating the win and became dizzy, prompting the coaching staff to call authorities.
Stogsdill said Kelly should be OK.
The Lions will play Free State at 6:15 p.m. Thursday at LHS.
Copyright 2018 The Lawrence Journal-World. All rights reserved. This material may not be published, broadcast, rewritten or redistributed. We strive to uphold our values for every story published.