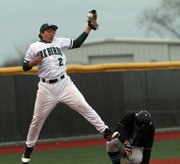 Free State High pitcher Cody Kukuk wasn't perfect.
But it's hard to imagine how he could have been much better.
Kukuk's fastball breezed past bats before crashing into catcher Lee McMahon's mitt. His curveball had batters ducking for cover, only to drop right back in the strike zone. As for his slider, coach Mike Hill could describe it only as unhittable.

Unhittable, indeed. Kukuk, Free State's 6-foot-4 senior lefty, struck out 13 and no-hit Shawnee Mission East, leading the Firebirds to a 3-0 victory on a chilly Tuesday night at FSHS.
"It's what he always does," Colin Toalson said with a grin. "Just get used to it."
Kukuk simply shrugged and praised his coaching staff and his teammates in the field behind him, seemingly not overly enamored with himself in the wake of tossing his finest game of the year.
"I just did what I could," he said.
The Lancers (6-4) only hit two balls hard against Kukuk, and their closest bid at a hit came on a soft ground ball in the fifth inning.
With two outs, SME leadoff hitter Anthony Scott slapped a slow roller to Toalson at shortstop — who hastily charged and fired a throw to first, which was well over Montana Samuels' head.
The sizeable Lancer contingent clamored for a hit, but Toalson felt as though a good throw would have been plenty to put out the speedy Scott.
"I kind of rushed it, and it got away from me," Toalson said.
Kukuk helped his own cause in the first inning, as he ripped an RBI single to drive home Toalson, who led off with a hard double to the right-field fence.

Two batters later, Samuels hit a sacrifice fly to right to plate Preston Schenck and make it 2-0.
Kukuk scored in the third on an RBI single from Tim Lewis to put the Firebirds on top 3-0.
Joe Dineen collected two hits, and Anthony Miele also slapped a single for FSHS (9-1).
From there, it was all Kukuk (6-0), who said his only other no-hitter was a five-inning effort way back in Little League.
Though he allowed six base-runners — two walks, two hit batsmen, the error and a wild pitch after a strikeout — Kukuk continually worked out of trouble by relying on his impressive arsenal of pitches.
"Whenever I'd let a few go, I'd just step off the back and collect myself," Kukuk said. "Just reboot and go."
He proved as much in the third, where he stranded a runner at second with three straight outs, including two strikeouts. Kukuk did it again in the fourth, when he struck out the side after hitting a batter to begin the inning.
After hitting a batter and throwing a wild pitch in the sixth, he stranded a runner on third with back-to-back strikeouts and a soft comebacker to the mound.
"You want him to be able to pitch his way out of jams and utilize his defense," Hill said. "At this level, he's able to reach back and strike out a lot of people, but where he's headed, that's not always the case."
Hill is referring to the next level. Kukuk has signed to play at Kansas University next fall.
But if Kukuk keeps pitching like this — as evidenced by the many major league scouts who already have their radar guns trained on him — he may never make it over to campus.
"He just pounded the zone," Hill said. "If he does that, he's as good as it gets."
FSHS will play at Shawnee Mission South at 4:30 p.m. Thursday before returning home for a makeup game against Blue Valley Northwest on Friday at 5.
Friday's game will be resumed with two outs in the top of the first inning.
Copyright 2018 The Lawrence Journal-World. All rights reserved. This material may not be published, broadcast, rewritten or redistributed. We strive to uphold our values for every story published.