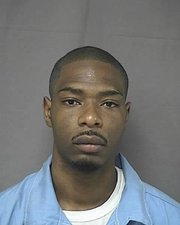 An attempted second-degree murder trial opened Monday for a 26-year-old Lawrence man accused of shooting another man at a Dec. 5, 2010, party at a south Lawrence apartment complex.
Prosecutor Michael Allen, an assistant Douglas County district attorney, told jurors during opening statements that several eyewitnesses could link defendant Dustin D. Walker to the shooting of Darrick Dew, 23, who eventually recovered after he was shot in the abdomen.
Allen said witnesses identified Walker as the man wearing a dark blue puffy coat at a party earlier at Cross Town Tavern, 1910 Haskell Ave. The same witnesses are expected to testify they saw Walker fire at Dew from a gun hidden inside his coat at South Pointe Apartments, 2310 W. 26th St., Allen said.
Prosecutors said Dew, who was taken to Lawrence Memorial Hospital by a cousin, was bleeding severely. Police arrested Walker four days later in Lawrence.
But Walker's defense attorney John Kerns said prosecutors have little physical evidence to tie Walker to the shooting, and he questioned credibility of some witnesses.
"We're going to ask you to scrutinize the evidence that exists in this case and take into consideration what does not exist," Kerns said.
Prosecutors are asking jurors to convict Walker of attempted second-degree murder and being a felon in possession of a firearm due to a 2008 aggravated battery conviction for a domestic violence incident.
Walker also faces a trial later this year on a reckless aggravated battery charge for an unrelated shooting in 2008 in the 2500 block of Redbud Lane.
Copyright 2018 The Lawrence Journal-World. All rights reserved. This material may not be published, broadcast, rewritten or redistributed. We strive to uphold our values for every story published.