Photo Gallery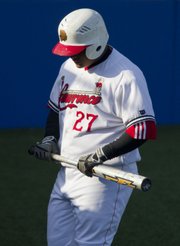 LHS baseball vs. Blue Springs
Lawrence High and Blue Springs (Mo.) sent their senior aces to the mound for Saturday's game in the River City Baseball Festival at Kansas University's Hoglund Ballpark.
The Wildcats' Jacob Woods outdueled the Lions' Alex Laughlin, propelling his team to a 5-3 victory.
Woods used his fastball in the first four innings to get ahead in counts, forcing the Lions (5-5) to chase pitches late in at-bats.
"The difference in the game was that they had competitive at-bats early," Lawrence High coach Brad Stoll said. "We didn't."
In those first four innings, Woods walked three Lions, but struck out four and allowed just two hits. The Wildcats' lineup provided some run support, scoring a run in the second and fourth innings.
By the time the Lions got the bats going, the deficit was too much. The Wildcats added three in the top of the fifth inning, paced by a two-RBI triple by junior Nick Gullotta.
Troy Willoughby's RBI single gave the Lions their first run in the bottom of the fifth inning. CJ Roush's two-RBI triple in the bottom of the sixth pulled the Lions within two, but they couldn't muster a rally in the seventh.
Stoll said he was pleased that his team battled back, but disappointed with the Lions' approach in the first four innings.
"From about the fifth inning on, we hooked it up," Stoll said. "But, unfortunately, baseball's a seven-inning game."
Roush, who finished 2-for-3 with a double and a triple, said he and his teammates knew they had to be more aggressive in the early innings.
"If you want to have success in this game, you have to get consecutive at-bats," Roush said.
Laughlin didn't pitch poorly, but the Wildcats took advantage whenever he walked a batter or allowed a runner to advance on a wild pitch. He pitched five innings, giving up five runs on six hits with four walks.
"We got beat today, man," Stoll said. "I hate losing on Saturdays because it sits with you so long."
Lawrence High will entertain Shawnee Mission West on Tuesday and travel Friday to Shawnee Mission East. Tuesday's first pitch is set for 5:30 p.m.
Copyright 2018 The Lawrence Journal-World. All rights reserved. This material may not be published, broadcast, rewritten or redistributed. We strive to uphold our values for every story published.