Photo Gallery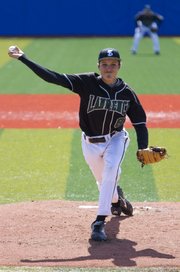 FSHS baseball vs. Rogers, Ark.
On Friday night, a few sloppy plays in the field proved of little consequence in a rout by Free State High's baseball team.
On Saturday, though, a few more defensive miscues were almost the Firebirds' undoing.
FSHS (8-1) rebounded from four errors that led to five unearned runs and walked off with a 7-6 victory over Rogers (Ark.) on Saturday at Hoglund Ballpark.
"It shows the mark of a good team to find a way to win," FSHS coach Mike Hill said. "I think a better team doesn't put itself in that situation, and that's what we're striving to become."
Down 6-5 in the bottom of the seventh, the Firebirds sure found a way.
With one out, speedy left fielder Tim Lewis — who was 3-for-3 on the day — roped a single to center.
Next up was Montana Samuels, who stepped to the plate looking to put a few rough at-bats and his 0-for-3 afternoon behind him.
Samuels unloaded on an inside fastball, crushing it off the top of the wall in left field — nearly putting it over — to score Lewis from first and tie the game.
"What I was most pleased with is that he didn't take that last plate appearance up there with him and got it done," Hill said. "He's a fine hitter."
Two batters later, Anthony Miele slapped one under third baseman Manny Garcia's glove, allowing pinch-runner Campbell Fritzel to score the game-winning run.
"It's important for us to just stay focused and do what we do," Samuels said.
After surrendering four unearned runs early Friday, the Firebirds found themselves down 5-0 after three third-inning errors.
"Errors are a part of the game," junior pitcher Trent Johnson said. "You can get mad about them and let them affect you and make another one, or you can move on."
For his part, Johnson worked around the miscues well.
In only his second start of the year, Johnson worked the first 6 1/3 innings while allowing four hits, six runs (only one earned) and striking out seven.
"He was great," Hill said. "He threw really well … he was deserving of a complete game, if not a shutout."
While Johnson settled in on the mound, FSHS rallied for three runs in the second on a sacrifice fly from Colin Toalson and a two-RBI single by Preston Schenck.
The Firebirds continued to chip away at the deficit, as Lewis slapped an RBI single that scored Schenck in the fifth and Dylan Perry hit a sacrifice fly that plated Miele in the sixth.
Despite having five seniors head back to Arkansas for prom, the Mounties and pitcher Jarred Lunsford proved to be a solid test for FSHS.
Cody Kukuk (5-0) earned the win and struck out two, despite allowing the go-ahead run to score after relieving Johnson in the seventh.
The Firebirds will take on Shawnee Mission South at 4:30 on Thursday at SMS.
Copyright 2018 The Lawrence Journal-World. All rights reserved. This material may not be published, broadcast, rewritten or redistributed. We strive to uphold our values for every story published.