Photo Gallery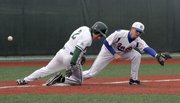 Free State baseball vs. Sprinfield (Mo.) Hillcrest
With a game-time temperature in the 30s, biting wind and intermittent rain, warming up was out of the question for Free State High's baseball team.
Once the Firebirds got in a rhythm, though, they were all set.
FSHS (7-1) shrugged off a sluggish start in the field en route to a 14-4 rout of Springfield (Mo.) Hillcrest in six innings on Friday evening at FSHS.
The Firebirds committed four errors in the first three innings that led to four unearned Hornets runs, but aside from that, rapped 15 hits and played quite well.
"Certainly it was a difficult day for both teams to play defensively," FSHS coach Mike Hill said. "They're plays we need to make. But you give a little bit of a mulligan playing on a raw, wet day like this."
"I was pleased that, after we kicked it around early, we settled down defensively," Hill added.
Down 4-3 in the third after chipping a way for a few runs early, the Firebird bats began teeing off on any pitch left up in the strike zone.
Preston Schenck and Cody Kukuk began the inning with back-to-back doubles and Tim Lewis smacked an RBI single to pull FSHS ahead 5-4.
Montana Samuels followed with a walk before Dane McCullough drove him and Lewis home with a solid base hit to right.
Samuels later scored on a throwing error to cap the four-run Firebird inning.
From there, FSHS added pairs of runs in the fourth, fifth, and then three more in the sixth — an RBI triple from Colin Philips, an RBI double from Dylan Perry and a game-ending RBI single by Colin Toalson.
Preston Schenck also had two hits, scored two runs and drove in another.
"I couldn't feel my hands," Perry joked after the game.
Toalson, who also doubled in a run in the fifth, got the win after throwing the final five innings in relief.
"I thought he was outstanding," Hill said of Toalson, who allowed two hits and struck out five for his second win of the season.
The Firebirds will take on Rogers (Ark.) at 11:30 a.m. today at Hoglund Ballpark.
Copyright 2018 The Lawrence Journal-World. All rights reserved. This material may not be published, broadcast, rewritten or redistributed. We strive to uphold our values for every story published.