News and notes from around town:
• Indeed the downtown restaurant Jefferson's soon will reopen. Brandon Graham and Jefferson's Downtown LLC have applied to the City Commission for a liquor license to reopen the restaurant at its original location of 743 Mass. According to the license the restaurant will keep the Jefferson's name. No word on whether the menu of burgers, oysters, wings and such will be the same, although you would assume it would be. I got in touch with Graham on Thursday morning, but he said he was too busy to talk. So, no word on many details, such as when the restaurant's first day will be.
The restaurant was shuttered by state revenue officers after the business failed to pay $46,848 in back taxes. The Kansas Department of Revenue seized all bank accounts, on-site cash, business inventory and personal property belonging to the business. According to the application filed with the city, the restaurant will be operated by a new ownership group. The restaurant previously was operated by Jason Franklin and FatLab Inc.
• Several East Lawrence residents aren't happy about plans to tear down an early 1900s home in the 700 block of Connecticut Street and replace it with a new multifamily apartment building. Several city officials aren't too pleased with the idea either. The city's Historic Resources Commission has denied a request to tear down a 2.5-story 1910 home at 711 Conn. But now property owner James Dunn has filed an appeal asking the City Commission to reverse that decision.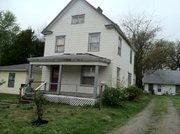 As is often the case with these types of requests, the issue is whether the house has deteriorated to the point that it can't be feasibly rehabilitated. Dunn's attorney, Michael Tubbs, argues that it has. He said the foundation needs replaced, there has been significant water damage, and that termites are a serious problem on the site. He's offered to conduct a tour of the property for city commissioners, but said each would have to sign a waiver of liability to enter the house because of its poor condition.
But several neighbors came to the Historic Resources Commission meeting and argued the house is in its current condition because the owner allowed it to get into that state. City Hall-types call that "demolition by neglect," and it is a practice that particularly irks historic preservationists.
"It is very frustrating for a historic preservation planner," said Lynne Braddock Zollner, the city's historic resources administrator. "But more importantly, I think it is very frustrating for the neighbors to watch a property in their neighborhood deteriorate like that."
Tubbs has disagreed with the contention that the property is a demolition by neglect case. He said his clients — who have owned the property since 2004 — have made efforts to maintain the property. The property has been condemned by the city and deemed unfit for habitation since August 2010.
Zollner's office at the end of the day provided a recommendation that the house could legally be torn down because it does not "encroach upon, damage or destroy the environs" of the nearby historic properties. But Zollner also told historic resources commissioners that it was her professional opinion that the house could feasibly be restored. And she said doesn't have any question that the house reached its current condition because of demolition by neglect.
Ultimately, Dunn wants to change the zoning of the property from RM-24 to RM-32 to allow for a six-unit apartment building that would include a paved parking area that would take much of the current backyard of the lot, Zollner said. Zollner's office is recommending denial of those plans, but the City Commission won't deal with the rezoning and site plan issues on Tuesday.
Instead, it will just be a good, old-fashioned demo debate. Commissioners meet at 6:35 p.m. on Tuesday at City Hall.
• None of this will directly come into play Tuesday night, but Zollner told me she would like the city to have a broader discussion about ways to prevent demolition by neglect. She said Lawrence has fewer demolition by neglect cases than many of our peer cities, but she thinks we could still improve. Some cities create some hefty penalties for demolition by neglect. For example, some have a system that requires a property owner to pay a higher demolition fee if the city determines a demolition has been caused by neglect. Some charge higher fees if a property owner doesn't reuse some of the material from the house being demolished. Others also charge fees based on how much material is taken to the landfill. Some of the communities will then use the fees charged from these projects to establish a historic preservation fund that can offer grants to property owners to help them with chores like painting, wood maintenance and other tasks that need to be done to keep a historic property looking ship-shape.
• Trivia question: How many gazebos does the city's Parks and Recreation Department have, and where are they located?
Of course, there is the highly visible one at South Park. Only a real Lawrence rookie wouldn't know that. There also is one at Watson Park at Sixth and Kentucky streets — also not too tough for a moderate Lawrence onlooker. But what about the third one? Congratulations if you answered the Lawrence Rotary Arboretum, 5100 W. 27th St. (If you actually got the address, I'm really impressed.)
No, I haven't gone all Alex Trebek on you (a Canadian I will not be, sir.) Instead, this is all just a sign that spring is really here. Beginning today, the city is taking reservations for all its park shelters and gazebos. Restroom facilities at the parks also open today. Reservations for shelters or gazebos are taken at any of the city's recreation centers.
UPDATE: I knew this whole trivia thing was going to bite me in the behind. One of my editors (evidently not the one who read this before it got posted) tells me she's quite confident there is a gazebo in the pocket park next to Watkins Museum. She seems to remember getting married there. So apparently what I meant to ask is where are the three gazebos you actually can reserve from the city's Parks and Recreation department. As I said, I'm no Alex Trebex (not Canadian, never will be.)
Other signs that the season really is changing:
City commissioners will give some necessary approvals Tuesday for the Lawrence Swap Meet — a sight more beautiful to gearheads than blooming tulips — to take place from May 5 through May 8 at the Douglas County Fairgrounds.
Commissioners also will approve the closing of Mass. Street from North Park Street to South Park Street on May 1 for the Lawrence Art Guild's annual Art in the Park event.
Copyright 2018 The Lawrence Journal-World. All rights reserved. This material may not be published, broadcast, rewritten or redistributed. We strive to uphold our values for every story published.