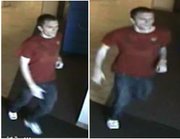 Kansas University police have released photographs of a person of interest in three reports of a man peeking into the showers at female students at Hashinger and McCollum residence halls at KU this week.
The suspect has been described as a white male, 18 to 21 years old, 6-foot-3, with short, light-brown hair. He was wearing a red shirt, blue jeans and white tennis shoes, according to KU Police Capt. Schuyler Bailey.
A woman reported a man looked into the shower stall while she was inside it Monday evening in a fourth-floor Hashinger Hall women's restroom, and similar reports were made Wednesday morning at McCollum Hall on the eighth and third floors, Bailey said.
KU released an updated crime alert on the incidents Friday morning, including the photographs. Anyone with information on the case or who recognizes the person in the photo is encouraged to call KU Crime Stoppers at 864-8888.
Copyright 2018 The Lawrence Journal-World. All rights reserved. This material may not be published, broadcast, rewritten or redistributed. We strive to uphold our values for every story published.