-->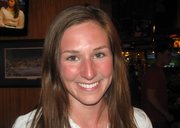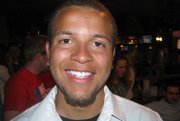 Kansas University students on Thursday elected a senior from Lawrence to serve as their next student body president.
"I've been a Jayhawk all my life," said Libby Johnson, the president-elect, who attended Lawrence High School. "I've never known anything else."
Gabe Bliss, a sophomore from Olathe, was elected as student body vice president.
The duo said they would immediately get to work on their platform issues, including bringing concerts to Allen Fieldhouse (Louis Armstrong and Bob Marley have played at KU, Johnson pointed out), more environmentally friendly restrooms and adding a bike rental program for students.
Bliss said the two of them didn't have any top issues — a diverse group of students requires a diverse set of goals, he said — but one of the first orders of business will be to plan out which of their platform issues would take the most time and work on those first.
They said they would also work to open more lines of communication with students.
"Student Senate does amazing things on campus, but not everyone knows that," Johnson said.
About 20 percent of KU students voted in the election, and Johnson and Bliss, who ran as members of the KUnited coalition, said they were pleased with the higher turnout figures, which nearly doubled last year's totals.
They defeated Casey Briner and Josh Dean from the RenewKU coalition. Johnson and Bliss earned 3,111 votes to Briner's and Dean's 2,007 votes.
"It's exhilarating," Bliss said. "We can't put that into words."
Copyright 2017 The Lawrence Journal-World. All rights reserved. This material may not be published, broadcast, rewritten or redistributed. We strive to uphold our values for every story published.