Photo Gallery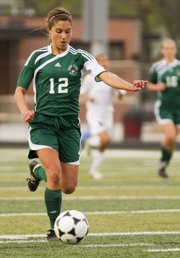 Free state soccer vs. Lawrence High
Offensive chances were scarce to begin Tuesday's girls soccer City Showdown, so Free State High's Kylee Loneker decided to take a chance.
As the Firebirds secured possession deep in the offensive third, the ball found Loneker smack in the center of the field.
She paused — looking more like a field goal kicker than soccer player on the LHS football field — and rifled a high arcing shot toward the net from about 30-yards out.
The shot, which Loneker said she's practiced quite a bit, floated just above leaping Lawrence High goalie Alex Ewy's outstretched fingertips and into the net, lifting the Firebirds to a 3-0 victory on Tuesday night at LHS.
"When it went in, it was insane," Loneker said.
"It felt kind of like a game changer," LHS senior Clare Payne said. "We weren't expecting it at all."
It sure kick-started the Firebird offense, which was slowed in the first half by a strong defensive showing from the Lions.
A few minutes after Loneker's strike, Abbey Casady found Alexa Harmon-Thomas, who raced down the sideline and behind the defense, then snuck one past Fleming to put the Firebirds ahead, 2-0.
And only a few minutes later, Kathryn Sarraf fed the ball to a streaking Harmon-Thomas, who had her shot blocked, only to have Sarraf boot in the loose ball.
"You see a goal like that and it energizes everybody else," FSHS coach Kelly Barah said.
Barah had plenty of good things to say about the Lions (2-4) and first-year coach Joe Nemzer.
"They really made us play a style of soccer that we're not used to, in terms of playing congested," Barah said. "Seeing those other goals come as a result of problem solving was good."
FSHS (4-1) had a handful of chances in the first half, but only mustered two shots on net as a result of the stingy defense, while LHS couldn't get much at all going on offense.
The Lions didn't get their first shot on net — a good rip by senior Marley Sutter — until nearly halfway into the second half.
"They were playing their game while, we were playing to what they were playing," Payne said. "We weren't making runs, we weren't passing. We were just kicking it to our forwards, trying to get them to shoot it, and it wasn't working."
Loneker said the Firebirds made a few adjustments at the break, and to start the second half, the mood on the field was much different.
"I think it was calm down, play our game," Loneker said.
Whatever the mindset, it certainly worked.
"The second half, we started off pretty well," Nemzer said. "But again, you lose track of one of those girls and bad things happen. They outmatched us today."
FSHS will play host to Shawnee Mission South at 6:30 p.m. on Thursday, while LHS will play host to Olathe Northwest at 7 p.m. on Thursday.
Copyright 2018 The Lawrence Journal-World. All rights reserved. This material may not be published, broadcast, rewritten or redistributed. We strive to uphold our values for every story published.