Photo Gallery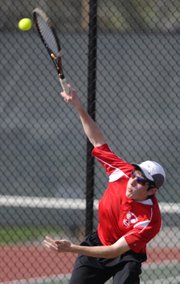 Lawrence High tennis vs. Free State
Ever since Free State High School opened in 1997, its boys tennis team has never lost the annual dual with Lawrence High.
The streak continued on Tuesday.
The Firebirds swept the Lions, 9-0, at the annual City Showdown dual at the Lawrence Tennis Center.
"It was a really nice result for us to beat them as cleanly as we did there," FSHS coach Oather Strawderman said.
Strawderman's girls tennis team also swept the Lions, so he ends the school year with an 18-0 record against the city rivals. And if the win against LHS wasn't enough, the wins will help Free State in Sunflower League and regional seeding.
The sweep was a little in doubt late in the afternoon, when Lawrence freshman Thomas Irick stormed back from a 3-0 deficit to take a 4-3 lead against Free State junior Andrew Craig in the No. 1 singles match.
Craig broke Irick's serve in the next game and won the next four to earn the victory.
Last season, Craig qualified for the state tournament in doubles with Dravid Joseph, who graduated. This season, Craig is focusing on singles.
That transition from doubles to singles hasn't been difficult for him. He is undefeated against regional opponents.
"He's doing really, really, really well," Strawderman said.
LHS coach Chris Marshall wasn't upset with Irick's loss, mostly because it seemed that every shot he hit just missed the line.
The misses came at the perfectly wrong time, too — a missed overhead slam at game point helped Craig tie the match at 4-4.
"He's playing the point right," Marshall said. "It's just a matter of getting a little better footwork and a little better prep, and those shots will be in. It's tough when you start missing and you're missing that close. It gets frustrating."
In No. 1 doubles, the Free State tandem of seniors Chris Helt and Patrick Carttar took down Lawrence High seniors Connor Schmidt and Ilan Rosen, 8-3.
Strawderman said the early success of the doubles teams helped the Firebirds build a strong foundation for the rest of the day.
For the Lions, the 0-3 start was ominous.
"You start 0-3 in doubles and it kind of snowballed on us today, but hey, the weather was nice," Marshall said.
The Lions play again today at Olathe South. The Firebirds host a quadrangular Friday.
Copyright 2018 The Lawrence Journal-World. All rights reserved. This material may not be published, broadcast, rewritten or redistributed. We strive to uphold our values for every story published.