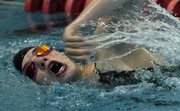 The Free State girls swimming and diving team placed first and the Lawrence High team fourth at a six-team meet on Tuesday at FSHS.
Senior Reilly Moore led the Firebirds with victories in the 100 freestyle and 100 breaststroke. Freshman Kate McCurdy won the 200 freestyle and took second in the 500 freestyle. Senior Kara Mishler added second-place finishes in the 200 individual medley and the 100 butterfly.
Free State divers Brooke Leslie, Annie Soderberg and Grace Oliver finished second, third and fourth, respectively.
The Firebirds' 200 medley relay team of Caroline King, Moore, Mishler and McCurdy took first in a state-qualifying time. The LHS team of Rachel Buchner, Mallory Neet, Miranda Rohn and Annie Odrowski took second, also in a state-qualifying time.
Also for the Lions, Rohn won the 200 IM and the 500 freestyle. Buchner took first in the 100 backstroke. Odrowski placed second in the 200 freestyle and 100 backstroke. Neet added a second-place finish in the 100 freestyle.
Copyright 2018 The Lawrence Journal-World. All rights reserved. This material may not be published, broadcast, rewritten or redistributed. We strive to uphold our values for every story published.