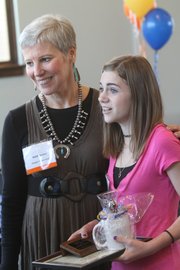 Mckenzie Brungardt collects blood, responds to disasters around Douglas County and helps with health and safety education while she volunteers at the American Red Cross. In the last three years, she's put in 200 hours each year of volunteer time, helping with office tasks, serving as a CPR training aide and responding to fires.
And in Brungardt's spare time, she attends seventh grade at West Junior High School.
Brungardt is the youth recipient of the 2010 Wallace Galluzzi Outstanding Volunteer of the Year award, given by the United Way Roger Hill Volunteer Center. She was recognized Tuesday afternoon at the Celebration of Volunteers luncheon as part of National Volunteer Week. Adult award-winner Katie Becker and more than 50 other volunteers or groups were honored at the luncheon, some being recognized for as many as 37 years of service to their organization.
Brungardt wasn't aware she had won before the ceremony. She was surprised when she received the honor and had advice for other young volunteers.
"No matter how old you are, you can always make a difference," Brungardt said. "I just like doing something that other kids wouldn't do."
The award is named for Wallace Galluzzi, who served as chair of the United Way campaign in 1983. After his death in 1984, the award was established in his name to recognize outstanding volunteers around Douglas County.
His wife, Marie Galluzzi-Potter, was on hand at the luncheon to present the awards.
"I think a community doesn't run unless it has volunteers," she said.
Erika Dvorske, president and CEO of United Way of Douglas County, said the group valued the knowledge of a volunteer at $20 per hour. Douglas County volunteers have given more than $160 million in services to the county, and 39.3 percent of the county had volunteered at some point.
She said volunteers were a huge asset to any organization in town, and recognizing young volunteers soon was beneficial in the long run.
"Most people who volunteer started early," she said. "Passion is the No. 1 thing."
For Becker, who has become a court-appointed special advocate for children since retiring as a school teacher, the payoff from volunteering is worth the hundreds of hours she's put in.
"You feel a part of your community," she said.
Copyright 2018 The Lawrence Journal-World. All rights reserved. This material may not be published, broadcast, rewritten or redistributed. We strive to uphold our values for every story published.