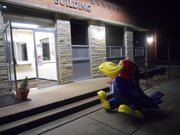 The Classic Jayhawk sculpture, which has become a fixture outside the Kansas Union, is getting some needed repairs after it was knocked off its perch early Saturday morning.
The popular sculpture is expected to be back in its place in time for KU graduates to take photos with it on commencement weekend, KU spokeswoman Jill Jess said Monday.
KU Public Safety officers took the Jayhawk into custody before 2 a.m. Saturday. Officers were called to the Union after two women dressed in black were seen near the sculpture.
Police said the two suspects told officers they were taking a picture with the Jayhawk when they climbed on it and that it fell over. While interviewing the two suspects, officers also received reports that three men were attempting to walk away with the sculpture, but officers recovered the Jayhawk and took it to the public safety office.
KU's campuswide commencement ceremony is May 22.
Copyright 2018 The Lawrence Journal-World. All rights reserved. This material may not be published, broadcast, rewritten or redistributed. We strive to uphold our values for every story published.