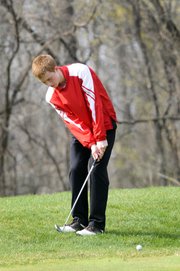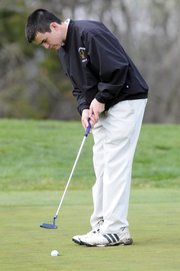 Inside the clubhouse at Eagle Bend Golf Course, the TV was of course tuned to the opening round of the Masters, and any waiting coach or parent would stop and watch.
On the screen, barely a cloud hung in the sky; the vibrant sun glimmered against the freshly groomed fairways of Augusta National Golf Club.
Outside on the course for the Free State Invitational, the weather was considerably less ideal.
But finally, the rain relented, the sun peeked through the hazy sky a bit, and the weather was fair enough for both the Free State High and Lawrence High boys golf teams — as well as 16 other schools — to get a quality round in.
After a chilly, windy and slightly soggy round on Thursday evening at Eagle Bend, FSHS finished 10th as a team with a score of 337, and LHS finished 14th after posting a 342.
Blue Valley North won with a trim team score of 292, bolstered by Alex Higgs' low round of 71 (1-under par) and Kyle Manning's 72 (even).
Alex Green's 79 was the low round for FSHS, followed by Jake Sakamura's 83 and Wilson Hack's 88, Nick Allen's 95 and Nick Hay's 97.
"I really liked the 79 and the 83," FSHS coach Matt Gudenkauf said of his team's first varsity round of the season. "The rest need to be cleaned up a bit."
Green said aside from one hole — the par-5 12th, where he carded a 9 after misfiring into the water — he felt like he played pretty well.
"I played with the first-place finisher (Higgs) and the third-place finisher, so it was a good look," Green said. "Just to see how other kids are playing is important."
Gudenkauf also commended Hack for bouncing back after a triple-bogey and quad-bogey on the first two holes to begin his round.
LHS junior Logan Henrichs shot a team-low 78, which he felt could have been even lower were it not for a few missed chances in the short game, including back-to-back bogeys to end his round.
"Actually, I don't think I hit a bad drive today," Henrichs said with a grin.
Devon Weber (85), Conner Henrichs (87), Blake VonBlaricum (92), Robbie Andrews (97) and Rito Mendez (99) rounded out the Lions' scoring.
Two newcomers to varsity competition, Weber and Conner Henrichs, were singled out for their performances by coach Dirk Wedd.
"Overall it's a good start for us," Wedd said.
Copyright 2018 The Lawrence Journal-World. All rights reserved. This material may not be published, broadcast, rewritten or redistributed. We strive to uphold our values for every story published.