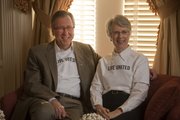 United Way of Douglas County has announced that Val and Beth Stella will serve as co-chairs for the agency's 2011 campaign.
The couple has lived in Lawrence for more than 25 years. He is a distinguished professor of pharmaceutical chemistry at Kansas University; she has a doctorate in developmental and child psychology, and has worked as a teacher and a researcher.
Both have extensive backgrounds in community service as well.
In the coming months, the co-chairs will seek to highlight the role of the United Way in the community and generate support for the annual fundraising effort.
They will be hard at work in the months ahead building up to the campaign kick-off in August and the community campaign in September.
This year, the United Way will be mobilizing community resources and building partnerships to focus on goals in three areas — education, self-sufficiency and health.
"It's not just about putting your thumb in the dike, it's about repairing the dike," Beth Stella said.
Last year, the campaign raised more than $1.6 million, though the effort is not just about fundraising, the Stellas said. Volunteering matters, too.
At KU, students contribute thousands of hours of volunteer work each year, Val Stella said, in addition to the contributions of the faculty, staff and the rest of the university community.
"Sometimes the community doesn't realize the impact the university can have on our community," he said.
Colleen Gregoire, vice president and campaign director at United Way of Douglas County, said she looked forward to seeing the co-chairs' fresh approach to the campaign.
"It's going to be a wonderful year to work with the Stellas," she said.
The co-chairs will seek to highlight the role the United Way plays in Lawrence to aid young people, teenagers, the elderly, the sick and more, Beth Stella said.
"Without (the United Way) in our community, it would be a very different place and a much less happy place to live," she said.
Copyright 2018 The Lawrence Journal-World. All rights reserved. This material may not be published, broadcast, rewritten or redistributed. We strive to uphold our values for every story published.