Photo Gallery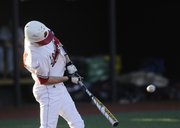 LHS baseball vs. Olathe North
Early on this season, Lawrence High senior first baseman Aaron Gile has found himself swinging at bad pitches.
Curveballs in the dirt. Pitches off the plate.
But after hitting a key two-RBI double in the fifth inning in the Lions' 7-2 win against Olathe North on Tuesday at LHS, Gile recognized that the hit could help him get out of his hitting funk.
"It felt good to finally get one lifted and out in the outfield in the gap," Gile said.
Gile drove an outside fastball through the gap and over the right-field wall for a ground-rule double. It put LHS up, 4-2, and the Lions added three more runs in the inning to pull away from the Eagles.
Coach Brad Stoll wouldn't call Gile's early struggles a slump.
"I think he was swinging at some pitches that aren't his kind of pitches, that aren't in his nitro zone," Stoll said. "Today, he finally got some pitches and was more disciplined at the plate."
Stoll said he wasn't happy with how his team started the game, playing to a 2-2 tie after four innings.
"I thought we were flat early," Stoll said. "I'm not real sure why you'd be flat on a day like this."
Things started to turn around in the top of the fifth inning, when junior pitcher Cameron Solko came on to replace starter Jake Johnson. Solko struck out three of the first five batters he faced, holding the Eagles hitless in the last three innings.
"He just went at guys," Stoll said. "That's the biggest challenge to our pitching staff is to go right at guys. Let the defense play. We've got a really good defense, let them play. Cameron did that today."
Stoll also lauded the play of senior shortstop Corbin Francisco, who was bumped up to the No. 3 spot in the batting order after impressing the coaching staff with his bat in the early part of the season.
Francisco picked up an RBI in the first inning, driving in senior Ross Johnson.
Though Stoll was disappointed with the Lions' start, he said he knows there are a lot of positives to draw from.
"We got a 'W,' and we banged it out a little bit when we needed to," Stoll said.
The Lions (2-4) travel to Johnson County 3&2 for a game against Shawnee Mission North at 5:30 p.m. today.
Copyright 2018 The Lawrence Journal-World. All rights reserved. This material may not be published, broadcast, rewritten or redistributed. We strive to uphold our values for every story published.