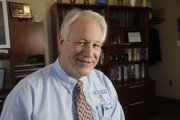 Jazz It Up
Tickets are available for the Douglas County Senior Services "Jazz It Up" event honoring Ken Audus, Kansas University's dean of its School of Pharmacy and DCSS's 2011 Seaver Award winner.
The black-tie event is scheduled from 6 p.m. to 9 p.m. April 28 at Maceli's, 1031 N.H.
Musical entertainment will be provided by Clyde Bysom and the River City Six. Tickets are $75 per person and are available at Douglas County Senior Services, 745 Vt.; Peoples Bank, 4831 W. Sixth St.; or by calling 830-4626.
The Douglas County Senior Center will honor the dean of the Kansas University School of Pharmacy for his school's contributions to serving the local senior community.
Ken Audus said that receiving the award is "very flattering" and said it is always good to gain recognition for doing something good in the community.
"I really feel like I'm accepting it for the School of Pharmacy," Audus said. "Deans get credit for a lot of things. They also get blamed for a lot of things. But I certainly acknowledge that what's happened, particularly with the senior center, has involved our students."
The pharmacy school has initiated a number of programs involving local residents, including free bone density screenings and health fairs.
This year's award is particularly meaningful, said Jessie Kwatamdia, project manager for the Douglas County Senior Center, because of Jim Seaver's death this month.
The senior center will honor the former KU professor and longtime civic leader during its program, Kwatamdia said.
She said she was struck by Audus' humility and his interest in helping build a relationship with the senior center.
"Really, without him, we would not be able to have that connection with the School of Pharmacy," Kwatamdia said.
He is passionate about his job, she said, and often makes it a point to check in on the health screenings his students are performing to see how things are going.
"He doesn't even introduce himself as the dean of pharmacy," Kwatamdia said. "It's always, 'I'm Ken, and what can I do to help?'"
Audus said pharmacists need to be able to deal with the public.
"As first points of contact in the health care system, they have to be very accessible," he said. "They have to be very people-oriented. Getting them into the communities early as students gets them experience in doing that and a comfort level with doing that."
Laura Randall, a second-year pharmacy student from Augusta, said she had participated in community events through the school, including health screenings.
Randall is the president of the Academy of Student Pharmacists, a student service, networking and advocacy group in the pharmacy school.
"I like that the opportunities are not all, for a lack of better wording, self-serving," she said.
They include opportunities that go outside the traditional medical field, including participation in Relay for Life and Boys and Girls Clubs.
That's important for students, too, Audus said.
"I grew up in a small town, and the pharmacists there were looked at as community leaders," he said. "That's the other thing that our students have to have an impression of, that as a member of a community, you're going to be looked upon as a leader."
Copyright 2018 The Lawrence Journal-World. All rights reserved. This material may not be published, broadcast, rewritten or redistributed. We strive to uphold our values for every story published.