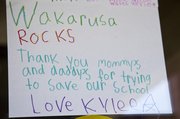 Wakarusa Valley School will close at the end of this school year, but it may not remain closed for long.
Less than a week after members of the Lawrence school board voted to close the elementary school just southeast of Clinton Lake — a move expected to save the district $487,000 a year — administrators now are busy compiling options that could reopen the building for different uses.
The leading contender: Relocate the Lawrence Virtual School from its current home at the former Centennial School, south of Lawrence High School, to the 50-year-old building on 10 acres at 1104 E. 1000 Road.
Such a move would give Wakarusa Valley a tenant that would be paying for operations out of a different operational budget and ensure that Cub Scouts, Girl Scouts, 4-Hers, Rural Water District No. 5, sports teams and area families could still utilize the building and grounds for meetings, games and other happenings.
"We're looking at ways that we can continue to use Wakarusa Valley that would allow us to let it be used for community events," said Frank Harwood, the district's chief operations officer. "The best thinking right now is that the Virtual School would be a good solution."
But it's not necessarily the only solution.
District's needs
Administrators are busy considering a number of options, all of which remain in play for a site that would work in concert with other district needs.
Among the other needs expected to factor into decisions about Wakarusa Valley:
• The district has known for months that it will need to move its Adult Education Program out of the Lawrence High School annex to open up space for LHS classes as the high school welcomes ninth-graders to campus next year for the first time.
• The district's Diploma Completion Program, operated by a contractor in The Malls Shopping Center, also will need a new home now that the district plans to bring it back into the district as a way to save $215,000 a year.
The two operations conceivably could move into the former Centennial building, 2145 La., where they would share space with ongoing offerings provided by Johnson County Community College.
Such an arrangement would depend on the Virtual School moving out, which has not yet been recommended to nor approved by the school board.
"We've got some plans," said Rick Doll, district superintendent. "Lots of things are up in the air."
'It's very frustrating'
Sonja Hart, president of the school's PTO, said she had heard about a few other possibilities, including Johnson County Community College conducting classes — such as those involving culinary education — at Wakarusa Valley, which has a large kitchen. The school also could end up as a site for district storage, especially as administrators start making plans for taking advantage of bulk-purchasing opportunities, a move expected to save the district $100,000 during the next school year.
No matter what happens, she said, area residents and parents of Wakarusa Valley students feel like they've been "lied to over and over again" throughout the entire closure process.
"Now they're going to use the building, just not for what its intended purpose was," Hart said. "It's very frustrating."
But given the choice of the building being used in some capacity or instead "mothballed" for potential future use, Hart would prefer that it be used now.
"We need a community center out there, so if we have to pick, that's what we pick," she said.
Harwood said it would be unlikely to use the site for bulk storage, given the school's lack of loading docks, large entryways and other features typically needed to produce efficiencies. And community college courses likely would be more appropriate in town, in proximity to programs for diploma completion and adult education.
Using Wakarusa Valley for the Virtual School would allow the district to spend "weighted" money it receives from the state for such education, Harwood said. That way, the thinking goes, such spending would not "eat into" the $487,000 the district expects to save operationally with the closure of Wakarusa Valley as an elementary school.
Administrators are still mulling options and weighing alternatives and studying possibilities.
"It is walking that line of trying to use the facilities that we have in the best way that we can," Harwood said.
Copyright 2018 The Lawrence Journal-World. All rights reserved. This material may not be published, broadcast, rewritten or redistributed. We strive to uphold our values for every story published.