Photo Gallery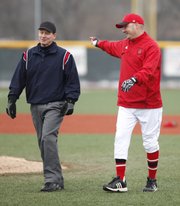 LHS baseball vs. Shawnee Mission Northwest
An aggressive mentality on the basepaths is an important part of Lawrence High baseball coach Brad Stoll's offensive philosophy.
"We always tell them, 'If you get picked off, we're gonna run again. Don't lose your aggressiveness just because you get called out,'" Stoll said.
Apparently, his team paid attention.
After squandering three early scoring opportunities by running into outs, the Lions just kept on running, picking up five steals en route to a 10-1 victory in the Lions' home opener against Shawnee Mission Northwest on Thursday.
Lawrence High won its first game of the season after dropping three on the road.
In the first three innings Thursday, it looked like the Lions' aggressive mentality might be their downfall. LHS made three base-running outs in three different ways: sliding past the bag, getting caught in a pickle and getting picked off.
"We misread a few things," Stoll said. "Hey, I'd rather have it happen now early in the season than in a postseason game or the state tournament."
Senior starting pitcher Jake Johnson threw a complete game, allowing only an unearned run in the fifth inning.
Johnson attacked the strike zone in the first inning, retiring the first three batters without throwing a ball.
"Our defense is really good," Johnson said. "The defense really puts a lot of confidence in your mind up there. Knowing that you have a defense behind you, I just go up there and let them hit the ball."
Johnson's changeup set up his fastball, and the Cougars just couldn't generate much more than ground balls. Stoll said that the coaching staff needed Johnson to pitch well so the Lions' bullpen could be available for Saturday's game against Shawnee Heights.
"He's a really aggressive kid, and it showed tonight," Stoll said.
The Lions (1-3) took the lead in the bottom of the fourth inning on senior Corbin Francisco's RBI single. Senior Trent Sheppard drove in two Lions on a bloop double to right field to give the Lions a 3-0 lead.
LHS tacked on three in the fifth inning and four in the sixth inning to cement the win.
Stoll said he was especially pleased with shortstop Francisco's play on Thursday.
After making an early error on a short hop, Francisco produced a hit in his first three at-bats.
Considering that Francisco's best skills are his speed and defense, Stoll said he's excited that Francisco is swinging the bat well.
"To get out and do something really great offensively is a boost for his confidence," Stoll said.
Francisco finished 3-for-4 with a double and three RBIs. He garnered some of the loudest cheers of the evening from the home crowd before his final at-bat.
"It feels amazing," a smiling Francisco said.
The Lions will face Shawnee Heights at 3 p.m. Saturday at Lawrence High.
Copyright 2018 The Lawrence Journal-World. All rights reserved. This material may not be published, broadcast, rewritten or redistributed. We strive to uphold our values for every story published.