With a tennis racket under her left arm and red fruit snacks in her left hand, Lawrence High junior Taylor Eubanks walked onto the court for her No. 3 singles match. Her opponent, Free State freshman Libby Hillis, walked next to Eubanks with her tennis bag draped over her shoulders.
Photo Gallery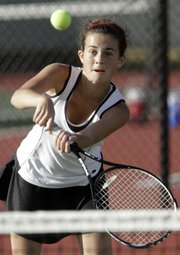 Free State tennis vs. Lawrence High
Monday's tennis dual between Lawrence and Free State was more than a clash of rival schools. It was a clash of rival styles.
The mostly serious Firebirds dispatched the mostly laid-back Lions, 9-0, at the Lawrence Tennis Center. In three doubles matches and six singles matches played first to eight games, the Lions won eight total games.
"I hope we learned something. I hope it motivates us when we're practicing in the offseason to get better," Lawrence High coach Steve Hudson said. "Free State was definitely the superior team today."
Lawrence High senior Morgan Manger said that her team isn't too serious most of the time. But that doesn't mean the Lions were carefree about their losses. Hudson said a lot of the girls were disappointed and that some of the freshmen were "pretty emotional" walking off the court.
"I told them it's part of learning. You have to take some lumps before you give some lumps," Hudson said. "In the offseason you can practice really hard and hopefully come back next year and be that girl who's delivering the lumps, not the one receiving them."
For Free State coach Oather Strawderman, the victory was a solid start to the four-event finale to the season: Monday's dual, Thursday's Sunflower League tournament, regionals and state.
"They are one of our Sunflower League opponents, so it's really great to come out and get a really big win and give the girls confidence," Strawderman said.
Free State freshman Alexis Czapinski, who won her No. 1 singles match against Manger, 8-1, said her team is usually pretty serious about competition.
"Definitely there's times that we get a little off topic, but it's good to have that every once in a while," Czapinski said. "If we're too serious about it, then there's no more fun in playing tennis."
The Lions and Firebirds will play at 8 a.m. Thursday at the Sunflower League tournament at Shawnee Mission East in Prairie Village.
Strawderman said the league was probably the toughest in the state. Hudson knew it, too. He told his players not to play a different game just because of the quality of the opponent.
"I tell the girls, 'Your regular stuff is good enough,'" Hudson said. "That can frustrate the opponent."
Copyright 2018 The Lawrence Journal-World. All rights reserved. This material may not be published, broadcast, rewritten or redistributed. We strive to uphold our values for every story published.