Over 3,000 athletes competed Saturday at the Rim Rock Invitational, making for a quite a festive occasion.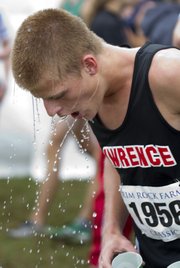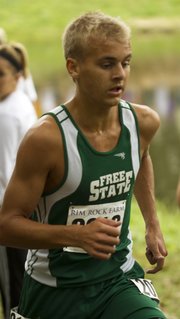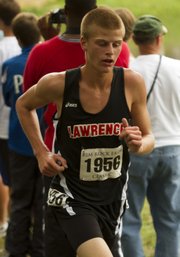 Dozens of colorful tents and banners dotted the landscape at Rim Rock Farm, and runners from across the Midwest and their families awaited the various races by chatting, sleeping, eating and stretching.
Free State High senior runner Logan Sloan said that simply being in the middle of an event of that magnitude could be daunting.
"Everyone thinks that everyone here is an Olympian. They think they're going to get lapped twice," he said. "But the real good runners will keep their poise, just relax, and run their race."
Sloan didn't appear to be fazed by the massive crowd, as he placed 13th in the boys varsity 5K gold race with a time of 16 minutes, 16.3 seconds — barely a second behind the winner.
The Lawrence High boys team finished seventh, and Free State was 27th.
Lawrence High sophomore Gavin Fisher was the top placing Lions runner at 16:49.8, good for 36th place, and junior Ari Pelli-Nilsen was right behind him at 16:54.9.
Sloan said he used his familiarity with Rim Rock to break away toward the end — leaving those unaccustomed to the hilly course behind.
"The plan was to react to whatever the race was doing and get in that front pack," he said. "From there, just build up and pass people along the way.
"That first mile is really important to keep poised and make sure you know what you're doing," he added. "Some of these kids come out here and run the first mile way too fast. They don't know what's coming."
An all-important hearty breakfast before the race didn't hurt.
"If you don't have anything in your system, by the end of the race you're going to feel like crap," Sloan said.
In the girls race, Free State finished 19th and LHS 26th.
Two Firebird girls also used their experience running at Rim Rock to place well. Junior Lynn Robinson came in at 35th in the 4K girls varsity gold race in a time of 16:18, and Hayley Francis was just behind her at 51st after finishing in 16:31.
Veterans weren't the only ones who ran well, though.
Saturday was Lawrence High sophomore Grace Morgan's first time running the course, which didn't stop her from running a team- — and personal- — best 16:28, good for 52nd place.
Morgan said her teammates gave her a heads-up about how the course was designed, but the key to her performance was staying within herself.
"I think I just concentrated more," she said.
Morgan's teammate, junior Michala Ruder, finished second-best on the team with a time of 17:16.
Copyright 2018 The Lawrence Journal-World. All rights reserved. This material may not be published, broadcast, rewritten or redistributed. We strive to uphold our values for every story published.